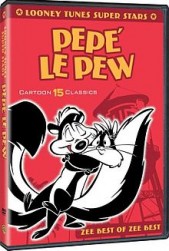 Pepe' Le Pew
Zee Best of Zee Best
Pepe' Le Pew was one of my favorite Looney Tunes Characters when I was a child. I loved that he fell in love with a cat who tried her best to stay away from the smelly skunk.
Recently Looney Tunes brought back Pepe Le Pew in an amazing 17 cartoon classic DVD called Pepe Le Pew Zee Best of Zee Best!
Pepe' Le Pew was one character that my daughter had never before seen and she immediately fell in love with him just as much as I had when I was her age!
On the Back
Sniffing around for di-stink-tiy hilarious animated antics? You're in luck, ma cherie! You hold in your hands a nose-crinkling collection starring the most malodorous mammal ever to go lookin' for l'amour with all the wrong species: Pepe' Le Pew! Including 14 shorts never before seen on video or DVD, these 17 tres aromatique outings feature the love-struck skunk falling hard for felines, canines and – sacre marron! – the occasional fur coat! In Dog Pounded, our powerfully perfumed protagonist costars with Tweety and Sylvester. Then there's a Pepe' Academy Award – winning tour de farce in For Scent-imental Reasons (the rumor his Oscar was made from Le Pew-ter is unconfirmed). And that's just a whiff of the richly fragrant fun you'll have watching "ze locksmith of love" in action: the one-and-oilfactory Pepe' Le Pew!
I did receive a product for the purpose of this review, However my opinion was used in this review and was not influenced in any way! All thoughts are my own and may vary from others