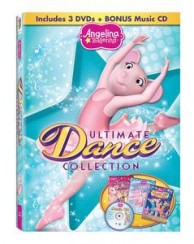 Angelina Ballerina
Ultimate Dance Collection
Angelina is the perfect character for young ones who love pink, dancing, skating, and wearing tutus! Plus with this awesome collection you will have 3 times the Angelina in this awesome three disc set + a bonus music CD!
The DVD's include Pop Star Girls, Dancing on Ice and The Shining Star Trophy! Plus songs I will Be a Star, It Takes a lot of Dancers, The Mousling Twirl and A Step at a Time can be found on the CD! Such a perfect little gift set to think about with Easter fast approaching!
On the Back
Pop Star Girls- Get ready to get your groove on because it's show time with Angelina and her friends! Move along with Angelina as she directs a hip-hop musical and discovers she was born to be a star. BONUS FEATURE – Dancing Star Memory Game
Dancing on Ice- Some sparkling performances are coming to Camembert Academy on the ice and on the dance floor! Will Angelina find her creativity – and missing ice skates – in time for the grand performance? BONUS FEATURE Polly's Picture Matching Game
The Shining Star Trophy- Ms. Mimi announces that there's going to be a talent show at Camembert Academy. When the curtain raises, who will take center stage and win the Shining Star Trophy? BONUS FEATURE Talent Show Trivia Game
Click to Read more Children's Cartoon Reviews!