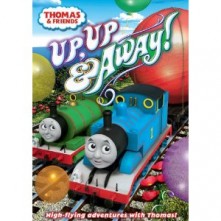 Thomas & Friends
Up, Up & Away
What could be better then Thomas with Balloons, Clowns, and childrens laughter? That is exactly what Thomas & Friends Up, Up and Away is all about! You will laugh along with your kiddos as they enjoy watching their favorite characters Percy, Thomas and more!
On the Back
The Sky's the Limit for Fun & Adventure!
Thomas and Percy have a special Special as they try and try again to bring balloons to Mr. Bubbles' Big Balloon Show. At the Children's Steam Fair, Emily learns there are great rewards – and laughs – in helping others, Kevin tries his hook at Hide and Peep, and Thomas has a wonky whistle! Up, up and away for exciting adventures with Thomas & Friends!
Bonus Features Include: Catch the Balloon Game, Guess who? Puzzles and Exclusive Activities and Fun with Driver Perkins!


a Rafflecopter giveaway