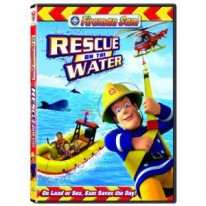 Fireman Sam
Rescue on the Water
Fireman Sam is a cartoon that I have recently been introduced to. I have heard of Fireman Sam before but up until recently I had never before watched any of the cartoons.
I was sent Fireman Sam Rescue on the Water for the purpose of this review. When it arrived I popped some popcorn and started the DVD for the kids!
Fireman Sam really hit home with me as my Dad has been a fireman for over 20 years. I love that Fireman Sam is an influential character that can teach the kids about safety and also teach the kids that there is no reason to be afraid of a Fireman! I love the rescue missions that are found in this DVD from floods to sea rescues!
On the Back
Sound the Alarm!
Fireman Sam and his heroic team are always prepared for rescues. Whether it's a flood in Pontypandy, dangerous shifting tides or trouble at sea for Norman and Jame, there's no challenge too big for Fireman Sam! Join the squad and save the day with this collection of daring seaworthy rescues.
Episodes:
Stranded, The One That Got Away, Pirates of Pontypandy, Norman's Ark Sailor Steele, and Dinosaur Hunt