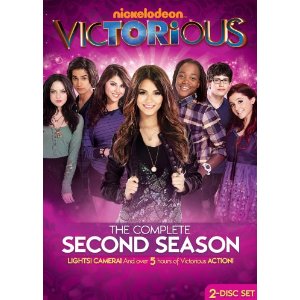 Nickelodeon
Victorious Complete Season 2

Prior to this review I had never before heard of Victorious. In fact it was not until yesterday that I even learned that Victoria Justice was even a singer.
I was sent The complete Second Season of Victorious for the purpose of this review and I must say I was thrilled with this fun Nickelodeon TV Series.
Victorious takes place at a Hollywood Arts school where a group of friends have corky adventures. To be honest I put the DVD in my car on the way to pick up my daughter from school so I could listen to it. I must admit that I laughed through the whole episode and decided that when I got home I wanted to sit down and actually watch all of them! They were funny and my daughter and I enjoyed getting to know the fun loving group of friends.
Next time I am channel flipping I will make sure to be on the lookout for Victorious as I would love to add this to the list of shows that I watch! So cute!
On the Back
Season 2 of Victorious shines even brighter as the students re-audition for their spots as Hollywood Arts, get ready for their first-ever prom, and drive a giant cupcake through the streets! Put your hands together for more music, more drama, and hilarious behind-the-scenes bloopers!