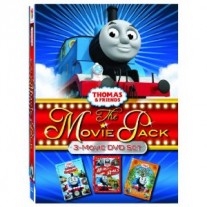 Thomas & Friends
The Movie Pack
Thomas & Friends has always been a top favorite cartoon of mine. Growing up I loved to watch Thomas & Friends and now I get an excuse as I am with a lovely 3 year old boy each day and we enjoy our daily Thomas & Friends cartoon together!
Recently I was able to review Thomas & Friends 3-Movie DVD Set that contains Calling All Engines, Hero of the Rails, and The Great Discovery. Three of the best Thomas & Friends DVD's!
On the Back
Hero of the Rails – Follow Thomas as he discovers Hiro, an abandoned engine from a faraway land. Fearing that Hiro will be scrapped, Thomas enlists the help of many friends, but mishaps, mistakes and one boastful engine could foil their rescue plans.
The Great Discovery– Sodor Day is coming and all the engines are busy preparing. When Thomas gets lots in the mountains, he discovers the old town of Great Waterton! Soon the whole island is buzzing with the news of Thomas' discovery and restoring the old town in time for the big day.
Calling All Engines– Summertime is a busy time on the Island of Sodor. When the Steam engines and Diesels can't get along, and no work is getting done, the engines are in a terrible mess! Will the new airport be ready in time? Will the bridge get built? Can the engines save the day? Find out in Calling All Engines!


a Rafflecopter giveaway