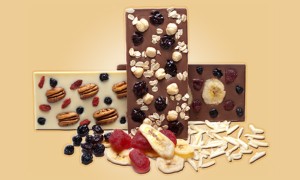 ChocCreate.com
How would you like the chance to eat chocolate your way? With everything YOU want added to your customized taste? Now that is possible with ChocCreate!
ChocCreate.com knows just how important chocolate is and they would be honored to make it your way! Dark Chocolate, White Chocolate or Milk Chocolate it's your choice! But, that is not the only choice you will have to make! How would you like Chocolate with Fruits, Nuts & Cereal, Rose Petals, Dried Blossoms, Gold, Butterscotch, Caramel, Marshmallows, Confetti, Herbs & Spices and more! You could even add a special banner that says Happy Birthday, Thank you, Get Well Soon or even I Love you! To go a step further you can even get a candle holder and candle added to your birthday bar!
See what I mean…ChocCreate.com really does have it all!
Don't have time to create your own but still want to try a great Chocolate bar from ChocCreate.com? That is okay too! They have a section of pre-made bars including a Choc Mex or even Zora's Banana Split Chocolate!
I was sent three Chocolate Bars for the purpose of this review..jealous? You should be! They were amazing! One of the bars included the Candied Pink Lilac Petals and I must say they were my favorite addition. I didn't expect to love them as much as I did! The bars also arrived just in time for my husbands birthday and included in the bars was a festive Happy Birthday Bar that included the candle holder and candle! It was perfect and he was really surprised to see a lite candle in a fun chocolate bar!