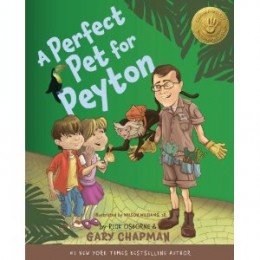 A Perfect Pet for Peyton
By: Rick Osborne & Gary Chapman
Do you know your child's love language? What makes your young one tick? You will be able to find that out and more in this cute story 'A Perfect Pet for Peyton' by Rick Osborne & Gary Chapman!
Let me start out by saying you all know just how much I love interaction books for kids. Perfect Pet for Peyton is exactly that! Not only does this book contain a fun story for your kids that will help them figure out their love language but it also has items to find and activities throughout the whole book! I love that idea and know that this book will bring hours of fun for all the kids in my home.
On the Back
Join twins Peyton and Penny as they celebrate an amazing birthday adventure with the help of Mr. Chapman and some very special friends. #1 New York Times bestselling author Gary Chapman and Rick Osborne, award-winning author of books for kids and teens, have teamed up on a book both kids and parents will enjoy. Kids will love the fun story and the full-color illustrations by Wilson Williams Jr. (complete with hidden details). Parents will appreciate the chance to help their kids learn how we all give and receive love differently.