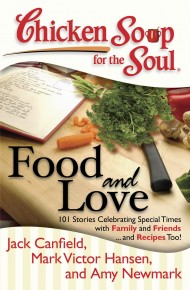 Chicken Soup for the Soul
Food and Love
Cooking is one for the greatest things I could ever do for my family. I love coming together over a home cooked meal and sharing with each other the events of our day.
I know I am not the only one that loves the fun times that can be had with family and friends over a great meal and Chicken Soup for the Soul: Food and Love is a collection of great inspiring stories of special times! Plus each story has an amazing recipe to go along with it! What fun!
On the Back
Our best memories often revolve around food. And so do our best stories! We've put together a heartwarming and mouthwatering collection of stories that will make you laugh, make you cry, and inspire you inside and outside the kitchen. Whether you are reading about funny cooking disasters, holiday traditions, life lessons, or revealing personal anecdotes, you'll want to try to special recipes inside this book and you'll be inspired to spend some quality time with family and friends… in the kitchen!