I love carrots and I love all the variety or recipes you can do with them! Recently I tried a recipe for Mustard Glazed Carrots and they were a huge hit at my home!
Ingredients:
1 package carrots (16 oz) 2 Tablespoons Honey Mustard 1 Teaspoon Dill Weed 2 Teaspoons Butter  
First off you will need to prepare your carrots by cutting off the ends and peeling the skin then slicing the carrots in the thickness you desire!
After the carrots are sliced you will need to place them in a large saucepan and bring to a boil. Reduce heat and simmer until crisp-softness (about 15 minutes).
After the carrots are at your desired tenderness drain water and return the carrots to pan. Then you will need to add mustard, dill and butter!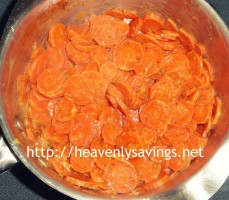 Stir together ingredients until butter is melted then serve and enjoy!
I got the idea for this recipe from the August/September 2006 Taste of Home Magazine