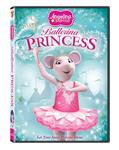 Angelina Ballerina
Ballerina Princess
I love Angelina Ballerina. She is cute and always has beautiful adventures in pink. In this cartoon Angelina you will enjoy watching Angelina as she dances a dance that most little girls (and some boys) love….Ballet!
Of course this cartoon can't be just dancing! No way! There are also Princesses, Kings, an evil witch and more!
On the Back
Join Angelina Ballerina and her friends for enchanting adventures filled with princesses, princes, kings and queens. Dancing their way through Chipping Cheddar, Angelina encounters an evil witch, uncovers a Cinderella-like mystery, treats the king and queen to a regal performance, and brings an epic tale to life with her friends! With secrets, spells, dance and celebrations, the stage is set for a royally good time!