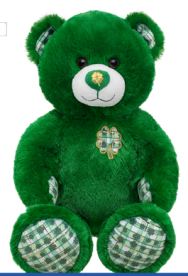 Save 37% Off Lucky Plaid Teddy! Now only $10! (Originally $16) at buildabear.com. Limited time only!.
St. Patricks Day is my favorite holiday! It was made into such a special day when I was a child and I love having fun with my daughter now on this wonderful Green Holiday! – In celebration of St. Patrick's Day BuildABear.com has a great sale going on, on their Plaid Teddy! Today it is just $10 (Reg. $16) There are also a few other great deals at Build A Bear! Check them out!
Squaredy Cats are now $9 each at buildabear.com! Limited time only.
Lucky 7 Savings only at buildabear.com! Save $7 off a purchase of $30 or more. Code SAVE7. Offer valid 3/17-3/19.
Buy Jonas Dog for only $5 at buildabear.com! Use code 97558 at checkout. Offer valid 3/19 – 7/31/12.