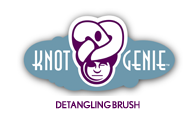 Knot Genie Detangling Brush
My daughter hates to have her hair brushed. It is a struggle each day to get her hair done for school. Each morning is filled with screams and crys for me to stop brushing!
I recently read a review of the Knot Genie and I knew that I had to try it for myself.
When my Knot Genie arrived I immediately took it out of the package and told my daughter to hold still while I brushed her hair. Of course she was not happy about this but after I started to brush it she said "Wow Mom, I don't feel anything." I was blown away as I did not expect it to work as brilliantly as it did! It is now my daughters favorite brush and she does not scream for me any longer when I brush her hair….except for the times that her hair is wet. I have found that the Knot Genie does not work as well on wet hair. That is not a huge issue with us though as her hair is normally dry when I style it!
On the Box
The magic trick behind the Knot Genie is one we are happy to reveal. It all has to do with the different lengths of teeth on the brush. When brushing, they bend just right, to gently untangle the hair. And because of this lack of stress, the hair's cuticle stays unharmed…revealing the smoothest, shiniest hair you've ever seen. Voila!
The Knot Genie Detangling Brush was created for every mom that has endured the foot stomping and screaming matches that come with brushing their child's hair. With the Knot Genie, even the curliest, most knotted up hair practically slips through the unique bristle configuration – gently and painlessly. Try the Knot Genie on your kids (or on yourself) – you'll be amazed by the ease of brushing, as well as how it virtually stops breakage and split ends. You've wished for hair brushing standoffs to end. Wish granted.