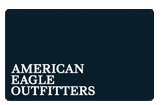 Plastic Jungle has additional savings on American Eagle Outfitters gift cards Today and Tomorrow ONLY (3/15-3/16)! American Eagle gift cards will be discounted 13%. There is no promo code necessary just make the purchase and the discount will be applied!
American Eagle Outfitters, aka AE or AEO has lots to offer like youthful clothes and accessories in the coziest American style: t-shirts, jeans, fleece, and hoodies. A staple for the tween and teen sets, American Eagle also gets the girls with its offshoot, brand, with pretty clothes offering better tailoring and clever details.
Buy discounted gift cards for American Eagle at Plastic Jungle!