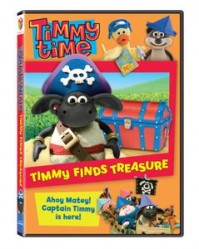 Timmy Time:Timmy Finds Treasure
On March 13th HIT Entertainment and Lionsgate will release yet another Timmy Time Classic, Timmy Time: Timmy Finds Treasure! Timmy Time is a fun-loving cartoon for geared toward children ages 2-5 years old. This DVD contains 5 Timmy Time Episodes. Your toddler will love to watch Timmy as he meets other animals.
Episodes Include:
Timmy Finds Treasure
Timmy's Treasure Hunt
Timmy's Tractor
Timmy Makes a Splash
Timmy's Spring Surprise
Bonus Features Include:
Timmy's Days of the Week Video and Shaun the Sheep Episode "Spring Lamb"
On the Back
Ahoy! There's loot of fun to be had with Timmy and his mateys in his collection of woolly tales! Timmy practices his pirate captain skills, accidentally leading his crew to special treasure. There's mis-arrrdventure on the hunt for treasures and the crew must get creative to get back on course. Then when Timmy sets sail, he and his friends cause chaos on the seas. Join Timmy for some swashbuckling fun and see that good mateys are the best treasure of all!