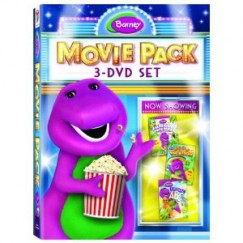 Barney
Movie Pack 3-DVD Set
If you have a child or have been a child in the past 20 years you know Barney! He is a classic that continues to please young children every day by not only teaching them but also laughing with them!
Barney Movie Pack 3-DVD Set includes Jungle Friends, Animal ABCs, and Lets Go On Vacation! Three fun-loving yet very educational Movies filled with bright colors and laughter.
You will enjoy going on adventures with Barney and friends Baby Bop, BJ, Riff and more as they travel to exotic lands in these three cartoon classics. Rain-forests, Dinosaurs and Spanish Sing A-Longs are just part of the fun you will find on this 3-Disc Set!
On the Back
Jungle Friends – Grab your safari hat and join your best friends, Barney, BJ, and Baby Bop as they laugh, dance, and sing through an enchanted rainforest and learn all about all of the amazing animals, plants and insects that call the rainforest their home. Watch and learn as kids play with monkeys, collect butterflies, and search for the Higgledy Piggledy Pear Tree in this super-dee-duper tale of friendship and fun!
Animal ABCs- BJ, Baby Bop, and Riff have gathered alphabet blocks for a fun game of…what? They wonder what game they can play with the blocks. When Megan's dog, Gracie, picks up the D block, Barney comments that she's a very smart dog because D is for dog! He suggests a game of finding an animal for each letter of the alphabet, and everyone is excited to give it a try. During the game, the kids and dinos have fun coming up with animals, but BJ has a hard time with the letters W,X,Y and Z. In the end, an animal is found for every letter, even though they have to use a make-believe animal for the letter U-Unicorn!
Let's Go On Vacation- Pack your bags with Barney & Friends and come along for a musical adventure and a while new world of fun! From exotic new foods to exciting new friends, the trip turns into a singing and dancing celebration. And the gang quickly learns that the things that matter most- like family and friends – are the same the world over. Don't miss a magical minute!