Luck of the Irish Giveaway Hop is hosted by Mama Does It All and Deals from MS DO.  Enter to win the Grand Prize Kindle Fire sponsored by zuuzs.com
zuuzs is a social shopping site where friends shop, share, and earn together. You can shop at more than 850 stores, share deals & opinions with friends, and control your own cash back rewards with their exclusive Buying Power functionality. It's free to join and have fun with zuuzs!
Here at Heavenly Savings I have a great giveaway for you! How about an Electric Wine Bottle Opener from Ozeri!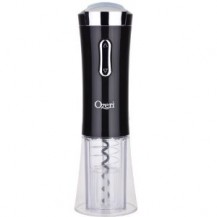 My Thoughts on Ozeri Electric Wine Opener
I use wine to cook with weekly and at times when I need a new bottle opened it would become difficult if I could not get it open and my husband was not home from work yet. Now with Ozeri's Electric Wine Opener I don't have to worry about not being able to remove the cork as the Ozeri Opener does everything for me including a blade to remove the foil from the top!
The Ozeri Electric Wine Opener is simple to use and the box contains three easy steps!
Use the included foil cutter to remove the seal.

A simple push-down button removes the cork.

A simple push-up button releases the cork.
It really is that simple.
I have now used the Ozeri Electronic Wine Opener for a month and have had NO issues with it. The box even says that it will open up to 40 bottles in a single charge of the battery. It will even remove natural or synthetic corks! Another feature I love is you can see the cork throughout the whole process so you know as soon as it is removed!
As a bonus the Ozeri Electric Wine Opener also has a sleek design and comes in Silver, Black or Red and is priced around $20 on Amazon!
If you are tired of the hassle of opening up corks on your wine bottles you will want to check into Ozeri's Electric Wine Opener! It is a great addition to my kitchen accessories and has made my life much easier!