The Adventures of Chuck & Friends
Friends to the Finish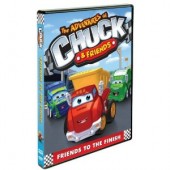 The kids at my house can not get enough of Chuck & Friends and now they can have him all the time with the 10 awesome episodes included in The Adventures of Chuck & Friends:Friends to the Finish!
Chuck & Friends is a great wholesome cartoons that I don't have to worry about my children watching! Take a look at the trailer and you will know what I mean!
On the Back
Join Chuck, the little dump truck with big dreams, and his amazing friends as they race their way through ten fun-fueled adventures. No matter what obstacles are put in Chuck's way, he knows that with good friends and a little imagination, he's always going to cross the finish line a winner.
Episodes include:
Race to the Race
The Best
Chuck's Big Break
Game On
Revving Up Rally
Grandpa Treadwell
Chuck Backs Up
Need for Speed
Vertie's Stunt School
Dancing Wheels
I did receive a product for the purpose of this review, However my opinion was used in this review and was not influenced in any way! All thoughts are my own and may vary from others