SpermCheck Fertility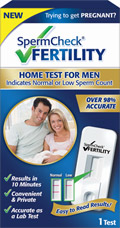 Trying to conceive can be very stressful and at times very expensive. For the first time ever you can eliminate some of the time, stress and money by taking the at home SpermCheck Fertility test for men!
The SpermCheck Fertility test is contains easy to follow instructions and will allow you to test easily in the comfort of your own home.
Each year 7M couples discover they have fertility issues and unfortunately 50% of them is due to the male and low sperm count. It can be very difficult for a male to want to make an appointment and have themselves tested. Now no one will ever have to know! No worries about making an appointment and going to your health care provider.
SpermCheck Fertility is the only FDA approved 98% accurate at home test on the market. Better yet you can have the results in just 10 minutes.
SpermCheck is currently available for purchase at Walgreens.com and CVS.com and retails for $39.99! You can also find out more about SpermCheck by visiting: http://www.spermcheck.com/
I am happy to say that I will be able to help with the cost of this amazing SpermCheck Fertility test by giving one away to one of my wonderful readers!
Conception is something I have been struggling with so this product hits close to home with me and I am happy to have been able to review such a wonderful product that will not only help with your pocket book by not having to visit a doctor for these tests but also help to aid in your conception!