Disney's Treasure Buddies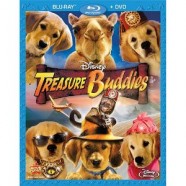 My daughter and I are addicted to the Buddies movies! Not only are the puppies super cute and lovable but the adventures they have are fun and exciting!
This time around the Buddies are on an Egyptian adventure that you won't want to miss!
What child does not love the mystery that can be involved with the tombs of Egypt? The Buddies sure can't get enough and this time they will team up with some characters you know and love and others that are new to the gang! Will they be able to win the race against the devious cat? You will have to watch and see!
On the Back
Disney's irresistible talking puppies – Budderball, B-Dawg, Rosebud, Buddha and Mudbud – are back in an all-new movie that takes them halfway across the world to the ruins of ancient Egypt. With the help of some exotic new friends, this epic adventure is a treasure trove of pure Buddy fun.
In a race against a devious cat, the Buddies and their new friends, Cammy and Babi, must avoid booby traps, solve puzzles and explore a mystery tomb- all in search of greatest treasure known to animalkind.
Packed with action, heart and tall-wagging bonus features, Treasure Buddies unleashes a celebration of teamwork and friendship your family will enjoy again and again.