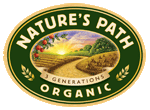 Natures Path Organic Foods
Love Crunch
 Dark Chocolate Red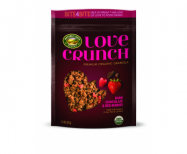 Berry and Aloha Blend…those names sound like sweet candy that you just can't wait to try! Betcha would not have guessed that those names were to name Love Crunch Cereal! Yum!
Recently I was able to review 2 bags of Love Crunch Cereal! You all know just how much I love cereal and I try to eat it as healthy as I can but sometimes the sugary cereal wins out. That is why I have been trying to break outside the box and try new cereals that are healthy and good tasting!
Dark Chocolate Red Berry- This cereal gets to be totally 100% my own! I love that! I am the only one in my family who will eat dark chocolate so I knew that I could savor every bite and my daughter would never beg for any of it! This Love Crunch is delicious. How could you go wrong with Chocolate and Red berries! Plus there are so many granola clusters to add a little crunch and it's pure heaven!
Aloha Blend- I have never before had cereal with Pineapple in it before but I must say that it was very tropical and refreshing! I enjoyed this cereal much more then I anticipated and it was a very enjoyable change-up compared to what I am used to! Love it! The only thing I would have changed is the White Chocolate..but I know that I am a freak for not liking white chocolate!
Love Crunch comes in a variety of flavors including: Carrot Cake and Apple Crumble!
I did receive a product for the purpose of this review, However my opinion was used in this review and was not influenced in any way! All thoughts are my own and may vary from others.