My T
houghts On Nature's Hand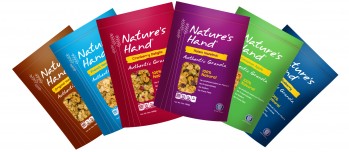 I love cereal and I love to eat healthy cereal but lets face it! Not many healthy cereals are as delicious as the sugary stuff my daughter loves. Well that is what I thought anyway…until I tried Nature's Hand 100% Natural Cereal!
I was able to review two Nature's Hand Cereals! French Vanilla Almond and Wild Blueberry! Other flavors include: Original Vanilla Almond, Cranberry Delight, Raisin Hazelnut, Cinnamon Apple, Maple Pecan, and Coconut Almond
I must be honest with you in this review (as I always am) and say that this really, truly, honestly, is the BEST cereal I have ever tried! There are so many granola clusters in every bite and I love the blueberry and french vanilla flavors. In fact as I am writing this I am again snacking on the Wild Blueberry as if it were a trail mix! I just can't get enough!
Nature's Hand can be purchased at Jewel, Cub Foods, Sunset Foods, Ultra Foods, Lunds, Piggly Wiggly, Coborn's, Mariano's, Whole Foods and more!!
Once you purchase Nature's Hand and love it as much as I do you will want to eat it all day! Nature's Hand knows this as well so they have a recipe section on their website that will give you amazing recipes to use their cereal with! For example Chewy Granola Cookies, Ice Cream Pie, Carmel Apple treat, Toffee Candy, Holiday Tea Cakes and more! Yummy!
Okay for real Nature's Hand is on my grocery list to purchase the next time I make a stop at Whole Foods! I REALLY do love it that much!
How would you like to score some Natures Hand? I am happy to say that Thanks to Nature's Hand one lucky winner will be able to score 2 Free Bags of Natures Hand cereal! Wait for the Rafflecopter to load to enter! Good luck! – Winner will have 48 hours to respond so check your junk folders!