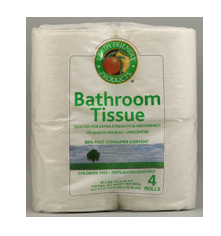 I am in love with Vitacost! They are a great place to purchase your everyday items and if you have not yet made your first purchase or signed up then remember you have a FREE $100 of ANYTHING credit you can use! Bathroom Tissue is yet another item you can use your $10 credit on! In fact you will be able to purchase not one package but 4 packages of Earth Friendly Bathroom Tissue! These packages of bathroom tissue will be FREE but you will have to pay $4.99 shipping! That makes it just $4.99 for 16 rolls of Eco Friendly Bath Tissue!
Remember to get the $10 Sign up Credit you must go through a referral link..HERE.
After you have signed up through the referral link you will be able to refer your friends and help them to score the bonus as well!!
After you have received your e-mail with your $10 Sign up credit then you can come back and visit THIS LINK to complete your shopping! Remember your FREE $10 will go toward anything not just the tissue!