Dora's Easter Adventures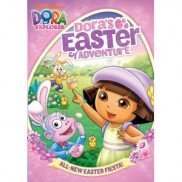 Can you believe it? Easter items already? Easter is around the corner and now is the time to be thinking about what you are going to get those kiddo's!
Dora's Easter Adventure is out on DVD and is sure to please those kids in your life.
Recently I was able to review Dora's Easter Adventure and I loved it just as much as I love all the great Dora cartoons! In this adventure Dora and Boots are on a mission to save the Hip-Hop Bunny's basket of eggs! Can they do it? You will have to watch and see!
This DVD also contains 2 bonus episodes: The Grumpy Old Troll Gets Married and Dora in Troll Land! This DVD contains 66 minutes of Dora and Boots fun!
On the Back
Get ready for an egg-citing Easter adventure as you help Dora and Boots save the Hip-Hop Bunny's basket of eggs! Plus, a troll wedding and a trip to Troll land!
Dora's Easter Adventure
Dora and Boots are waiting for a visit from the Hip-Hop Bunny, who's bringing all the Easter Eggs for the big Egg Hunt! But when Swiper swipes the Hip-Hop Bunny's basket, Dora and Boots need your help on an adventure to make sure it's a hop-hop-hoppy Easter for all!