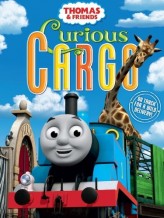 Thomas & Friends
Curious Cargo
Children love Thomas and they also love wild animals! That is exactly what can be found in this wonderful Thomas & Friends Curious Cargo DVD!
In this cute DVD Thomas is faced with a problem and it will take his friends to help him find the solution! He is transporting a Giraffe who does not want to sit down! This is a problem you see because Thomas has to go under bridges and the giraffe is too tall! What will Thomas do? Do you think he will be able to figure it out? You will have to watch and see!
On The Back
All Aboard For A Wild Ride
…on the island of Sodor as Thomas and his engine friends deliver some curious cargo – from giraffes and cows to birds and bunnies and more!
Thomas meets a tall challenge while taking a giraffe to the animal park, Percy learns to be gentle with the animals of Sodor, and Belle and Toby discover the importance of listening to others. Join Thomas on his wildest adventures yet!