Hawaiian
Kettle Style Chips & Rings

It is no secret that I love potato chips! You could give me a bag of chips any day over a hot fudge sundae!
Recently I was able to review Hawaiian Kettle Chips and their Rings! Yummy! I was sent Sweet Maui Onion Rings, Luau BBQ Rings and Original Kettle Chips!
Hawaiian has a large selection of flavors available. Mango Habanero, Sweet Maui Onion, Wasabi, Luau BBQ and Original! Plus the Onion and BBQ can be purchased in 'onion ring' form!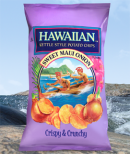 Original- I love original kettle chips and these are no exception! They were crunchy and delicious with the perfect amount of thickness and salt!
Sweet Maui Onion- These are my favorite flavor of the Hawaiian brand and the favorite of my hubby as well. The flavor is delicious and the sweet onion flavor could not be more perfect.
Luau BBQ- Tangy with a hint of spice. BBQ is a great flavor and the Hawaiian BBQ is unlike any BBQ chip I have ever had!
About Hawaiin Kettle Style Potato Chips
From Press Release
Discover a new world of Flavor Destinations when you crunch into Hawaiian Kettle Style Potato Chips. The crispy, golden chips are cooked to perfection, then salted just enough to enhance the natural potato flavor. Using the traditional Polynesian recipe that originated the Hawaiian Kettle Style Potato Chip, only the finest ingredients are used to create a chip that captures the freshness and authenticity of the islands. Open a bag of Hawaiian Kettle Style Potato Chips, and let yourself be swept away to a tropical paradise of blue skies and warm, sandy beaches.