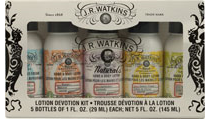 J.R. Watkins Lotion Devotion 5 Piece Kit will be FREE for new VitaCost Rewards members! Can you believe it!  – Here's how it works!
Visit THIS LINK and sign up for Vitacost Rewards. Upon sign up you will get a $10 bonus credit that can be used on any purchase! This J.R. Watkins Lotion Devotion kit sales for just $8.53 and will be FREE with the sign up credit! You will have to pay shipping and that is just $4.99! That is still an amazing deal even with shipping!
Not interested in the Lotion? That is okay! You can still get the $10 Credit and check out everything else VitaCost has to offer! Happy Shopping!