My Thoughts on Real Steel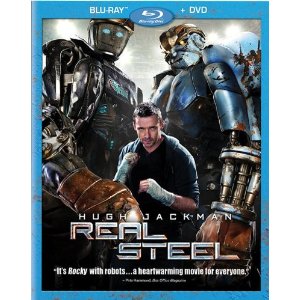 I could not wait to see Real Steel. Such a creative idea to take the infamous boys robot toy and make it into an amazing movie.
As soon as I seen the very first preview for this movie I knew it would be a heart warming story. Plus with Hugh Jackman as the main character how could not movie be any less then amazing!
In this movie Hugh Jackman plays a dead beat Dad who really only has one care in the world…himself. But that all quickly changes as life hands him an unexpected turn of events.
This was a GOOD movie! A must see for sure for all ages! My husband loved this movie just as much as I did and that does not happen very often! You will enjoy watching the transformation of father and child as they bond over their love of robots and the technology behind them.
On the Back
Enter the not-so-distant future where boxing has gone high-tech 2000-pound, 8 foot-tall steel robots have taken over the ring. Starring Hugh Jackman as Charlie Kenton, a washed-up fighter turned small-time promoter, Real Steel is a riveting, white-knuckle action ride that will leave you cheering. When Charlie hits rock bottom, he reluctantly teams up with his estranged son Max to build and train a championship contender. As the stakes in the thrill-packed area are raised, Charlie and Max, against all odds, get one last shot at a comeback. Visually stunning and complete with knockout bonus material, Real Steel is a pulse-pounding, inspirational adventure filled with heart and soul.
I did receive a product for the purpose of this review, However my opinion was used in this review and was not influenced in any way! All thoughts are my own and may vary from others