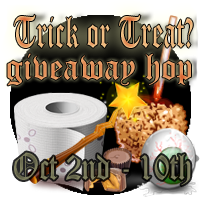 Trick or Treat Surprise Giveaway Hop! Enter if you dare! You could be getting something awesome and fun like $$ or….you could be getting $50 in Itching Powder…haha!
This is the most fun Giveaway Hop Ever! Why? Because You don't have any idea what you are going to win! haha! Love it! It could be a trick…..or it could be a treat! I will say one thing though.. I am picking out all prizes myself and I can't wait to see what you think!
I would like to let you know that there are 3 winners for my Giveaway!
Good Luck!
*This post may contain affiliate links. All thoughts expressed are my own. Please refer to my disclosure policy for more information