---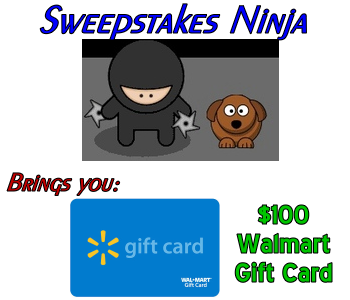 Presents:

"Hi-Ya Sweepstakes $100 Walmart Giftcard from Sweepstakes Ninja"
Do you like to save money AND have a great chance at winning some amazing prizes? Well I do and I have found that entering contests to win great prizes is an easy way to get what I want without spending a dime. I have gathered with some friends and we are all offering super prizes on our sites. We are part of the Giveaway train that chugs into town every week with a new grand prize. This Weeks grand prize is a Walmart giftcard. What would you buy?
1st Place
$10 Walmart Giftcard
2nd Place
$56 – 2 Month License to Sweepstakes Ninja x2
3rd Place
$135 – 6 Month License to Sweepstakes Ninja x1
This week we've got a $100 Walmart Gift Card to give to you guys!
(we're awesome right?)
About our Sponsor:
Sweepstakes Ninja saves you time and money. If you were to enter 300-400 sweepstakes on a daily basis, it would probably take you about 150 hours in a month. If you had a job that paid $10/hour, that would be like
$1500/month. Plus, this software makes it fun. You don't get caught up in the menial task of retyping your
information over and over.
– Sweepstakes Ninja is fun. You make new friendships, find new exciting tens of thousands of dollars in prizes
– You get access to a 'Big Sweepstakes' database, which has several million in prizes from various companies
& sponsors
– It is constantly being improved. Since it's release only about 7-8 months ago, there have already been 150
NEW versions, which users get updated instantly on their computer.
– You make new friendships with other people who love sweep staking, through online forums and other means
– It is a win-win situation for both sponsors & sweepstakes, so both really
like it!
– And, of course, the excitement when/if you win a prize is really great.
Visit Sweepstakes Ninja now and learn how you can 'click it' to 'win it'!
*This weeks prizes are sponsored by Sweepstakes Ninja
Instructions to ENTER
When you get on the giveaway train you will need to:
1) Click on this LINK to be taken to my giveaway train page.
2) Like and/or Click on the contest links to enter
3) You will be leaving comments on the site with the contests. These contests each have their own rules and end dates.
4) After you have entered the contests to be eligible to enter our giveaway which ends THURSDAY 9/01/11. A winner will be selected by Random.org. If you win the 2nd or third prize because of the nature of the prize you will need to sign/return an affidavit once you have been selected as potential winners.
Think of it like this: your trip starts on my website. You leave the station and head on over to a fellow bloggers boarding ramp where you enter one of their amazing giveaways.  Then you end up at your final destination and you leave comments telling us what you have done. You wait a couple of hours to see if you have won the prize and any of the other contests you have entered and voila your journey is over until next week!
The amazing Blogs participating in the train this week are:
---
This Week's Prize brought to you by:
Sweepstakes Ninja
---
Previous Winners:
Angie Womble
won A Diamond Bracelet
Carey Parks
won A $50 Pfaltzgraff gift card
Lynda Clark
won A Pfaltzgraff flatware set
Kari Howell
won A $100 Amazon.com Gift Card
Renee Thompson
won A Nintendo 3DS
Shannon Pickin
won A Nintendo Wii
Melissa Haggerty
won A Tommee Tippee Breast Pump
Tracy Taylor
won A $100 LOFT Gift Card
Mary Clarisse
won A Happy Baby Prize Pack
Katie Reader
won A Pepto Prize Pack
Maggy Austin
won A Kodak Mini Camcorder
Wanda Rupright
won A 100 Coupon Clippies
---
To inquire about becoming a sponsor, or a giveaway train stop (publisher) please contact GiveawayTrain@gmail.com for details.
*This post may contain affiliate links. All thoughts expressed are my own. Please refer to my disclosure policy for more information