** I was provided with a copy of this title for the purpose of this review. However, my own opinion was used and not influenced in any way.
Say & Pray Devotions Review & Giveaway!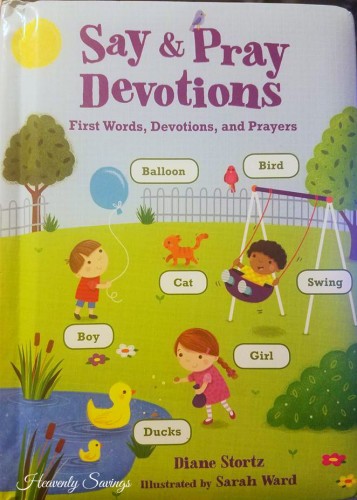 My Thoughts!
My baby girl just turned a year old! I can't believe that this year has already passed..but at the same time I am super happy that she is now at a stage where she is learning and growing and becoming really fun. That is why I have been reading more and more to her. She loves books and I love knowing that I am helping her build a good and strong vocabulary. Especially with books that help her learn about the items around her.
On each page of Say & Pray Devotions there is a little part about all the gifts that God has made us. Like our bodies, the animals and more. It is so beautiful to be reminded about the gifts from God that we might take for granted. It has also reminded my older daughter about things that she needs to add to her prayers to Thank God for. To go along with those cute little blurbs there is also a Scripture and a devotional. It helps to really put the focus back on God and all that we have and can do because of him. I made a pact with Heavenly Father years ago that if he were to give me another child (I had problems with infertility) that I would raise my child to know him and I would read my scriptures to her and teach her the Gospel. This book is helping me to keep that promise that I made with him and I love that.
Now for some more fun, in the book there are cute and fun pictures but they are also labeled. I am able to show my daughter what things are that are around her every day and help her understand the words that are associated with them. She is at an age now where she understands that things have uses and she is trying to put words to them. It is amazing to watch her grown and learn.
My favorite things about Say & Pray Devotions:
1. It's a Board book so my little can look at it without tearing up the pages.
2. She is learning new words ever time I read it to her.
3. There is a scripture with every turn of the page!
On the Back
Say and Pray Devotions with Your Little One Today!
Encourage even the littlest hearts to grow in faith through these fun devotions that teach the importance of gratitude. Children will enjoy pointing to and naming labeled objects on each page while learning more about God's love and how He provides for us. Scripture and short prayers will also hide God's Word in young hearts.
Giveaway –
How would you like to win a copy of Say & Pray Devotions? I am happy to say that one lucky reader will  be able to do just that! Giveaway is open to US only. Good Luck to all!
a Rafflecopter giveaway

"Disclosure of Material Connection: I received one or more of the products or services mentioned above for free in the hope that I would mention it on my blog. Regardless, I only recommend products or services I use personally and believe will be good for my readers. I am disclosing this in accordance with the Federal Trade Commission's 16 CFR, Part 255: "Guide Concerning the Use of Endorsements and Testimonials in Advertising."