This shop has been compensated by Collective Bias, Inc. and its advertiser. All opinions are mine alone. #allfreeclear #CollectiveBias
Baby Shower Keepsake Game Idea AND Keeping My Clothing Stain Free With Baby!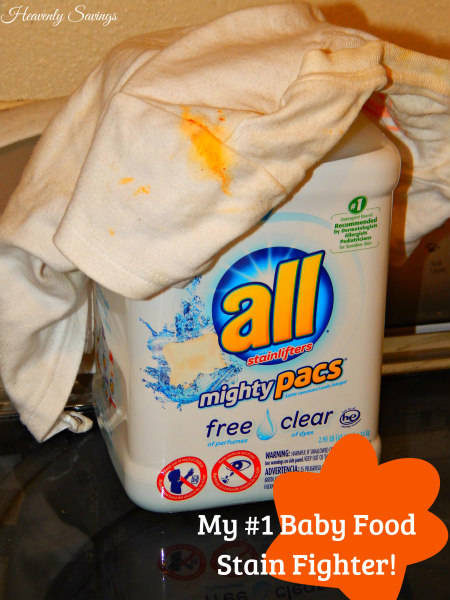 As most of you know I had a baby in November. Time sure seems to be flying and we recently started feeding my little one solid foods. It has been a great experience so far…for the most part. But on the flip side I am really tired of ending up with baby food all over me. I was so tired of getting stains all over my clothes each time I tried to feed her something new. Especially her first experiences with peas and zucchini. Honestly it seems like anything green ended up all over me and none of it in her mouth. That is why I am so happy to have found all® free clear detergent and all® free clear Mighty Pacs® at Sam's Club. Without all® free clear detergent I honestly don't know how I would be able to get the baby food stains out of my clothing. I mean I can honestly say that making my daughters food and introducing her to new flavors has been amazing. I love seeing her face light up when she finds something she loves like bananas but she will also instantly let you know if it is something that she is going to take some time to get used to. She has defiantly mastered the fake cough or sneeze to fling her unwanted food out of her mouth and across the room directly onto me!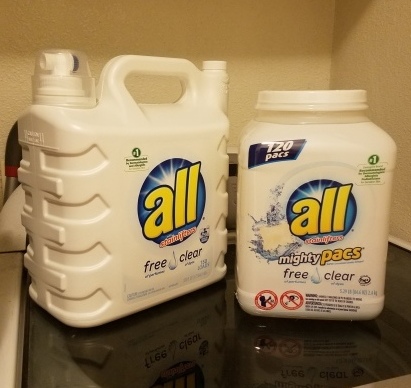 Recently at a trip to Sam's Club I came across all® free clear detergent. Honestly I had heard of all®  detergent before and had used it many times in the past…but I had never noticed their all® free clear detergent and all® free clear Mighty Pacs® line. So I was excited to give it a try. When I looked down and seen spit up carrots all over my shirt I realized I needed to do something and quick!
After reading that all® free clear detergent and all® free clear Mighty Pacs® were the #1 Recommended brand by Dermatologists, Allergists, and Pediatricians I knew I had found a winner. My baby girl has very sensitive skin and I wanted to make sure I found a detergent that was free of dyes and perfumes so that it would not harm her during our daily cuddles. Not only would I be able to get to spend on baby food out of my clothes but I would no longer have to worry about her sensitive skin issues! I'm glad that all® free clear will help me and family look and feel our best without being worried about our sensitive skin.
Check out the face she makes before she spits food all over me….when I see this face I know it is coming!!!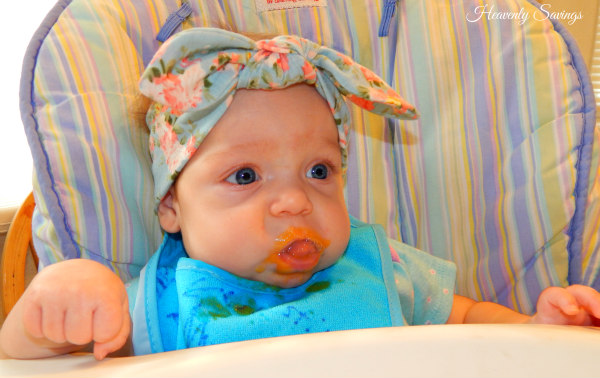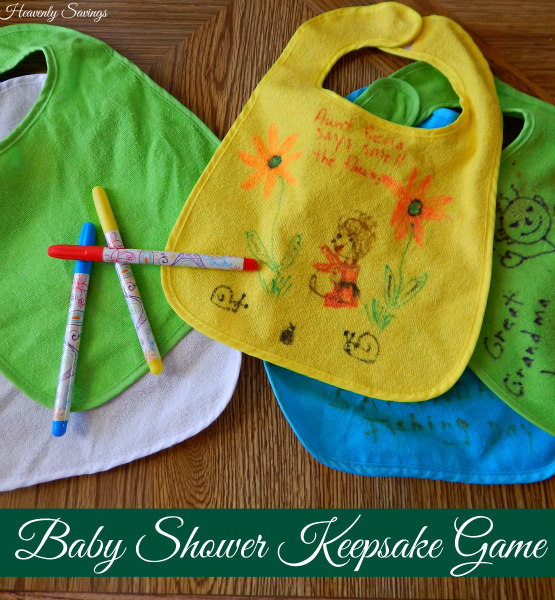 Baby Shower Keepsake Game:
Items needed:
10-20 Blank baby bibs (or however many needed per guest list)
Fabric markers
Directions:
Step 1: Host an amazing baby shower. Filled with Love and Laughter!
Step 2: Hand out  blank baby bibs to each guest along with some fabric markers.
Step 3: Let them get creative and fun while drawing and customizing anything they want onto the baby bib.
Step 4: Give these bibs to the Mommy to-be so she can not only have a little added protection for her babies clothes but also a keepsake to remember all of her guests.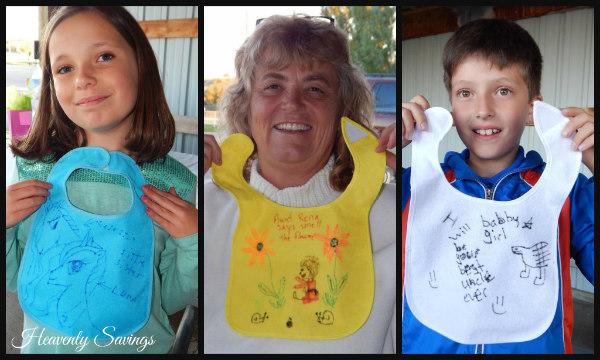 *You could even have a competition with prizes for the most creative, colorful, funny, etc……
Honestly this was one of my favorite gifts to receive at my baby shower. I am a sentimental person and  I love knowing that I have baby bibs for my daughter that were designed by her great-grandma's, grandma's, aunts, cousins and friends.It was so neat to see the ideas and designs that people came up with and I could really see their personality shining through in their baby bib designs.
Although the bibs are fun I know that they are not going to fully protect my daughter's clothes or mine that is why all® free clear detergent and all® free clear Mighty Pacs® are the perfect alternative to my stain fighting.
If you're like me and want to make sure that your clothes stay squeaky clean and allergen-free then head to Sam's Club and pick up all® free clear detergent and all® free clear Mighty Pacs® today.
To Learn More about all® free clear detergent and all® free clear Mighty Pacs® you can check them out on their social media channels listed below!
Do You Have A Favorite Baby Shower Game Idea? I Would Love To Hear About It!