This shop has been compensated by Collective Bias, Inc. and its advertiser. All opinions are mine alone. #acnefree123 #CollectiveBias
My Daughters First Pimple + DIY Tween Hygiene Kit!
Two weeks ago my daughter had one of the worst days of her life. She woke up to her first pimple. As she looked in the mirror for the first time that day I could hear her scream! It scream was like something out of a teen movie. Both of my girls were getting their Easter pictures taken that day  and she could not believe that she was going to have a HUGE zit showing for everyone to see! It was bright read and awful looking. Ok…so I hardly noticed but to her it was the end of the world.
Getting her first pimple opened up the door for me to talk to my tween about her personal hygiene and the things she needs to start doing to care for her skin and body. Of course her skin care routine was the top of the list of items we disused and she asked me if we could head to Walmart and purchase some skin care products so that she could keep on top of her acne and help to achieve healthier looking skin.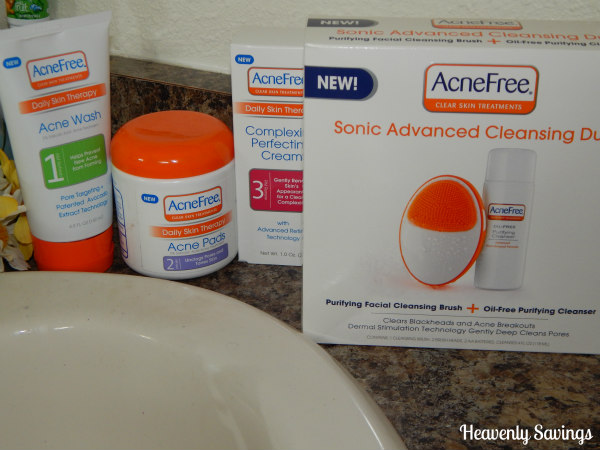 At Walmart we ended up purchasing AcneFree Sonic Advanced Cleaning Duo, AcneFree Daily Skin Therapy Acne Wash, Daily Skin Therapy Pads and Daily Skin Therapy Complexion Perfecting Cream. I knew that these products would help her feel more confident and get a handle on her skin care now and work on a new routine of washing and cleaning her face regularly. I had never before heard of AcneFree but it did not take long to notice that they had a full line of products to help you treat and control your acne.
The AcneFree Sonic Advanced Cleaning Duo is a  Sonic Advanced Cleaning Duo! Purifying Facial Cleansing Brush + Oil-Free Purifying Cleanser. I love that it is an Oil Free Cleanser clears blackheads and acne breakouts. With a Purifying Facial Cleansing Brush that uses dermal stimulation technology to gently deep clean pores. No additional brush heads needed because it's easy to clean.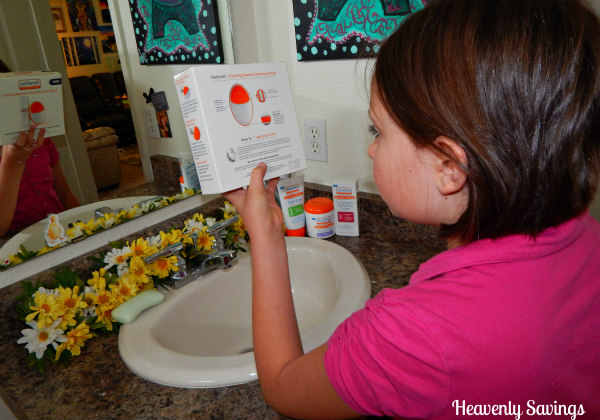 Because I was prone to acne as a tween/teen I also decided to purchase the Daily Skin Therapy line. They are a great new 3-Step line from AcneFree that helps rebalance acne-prone skin! You can buy each product seprately or you can buy all three to benefit from the full line.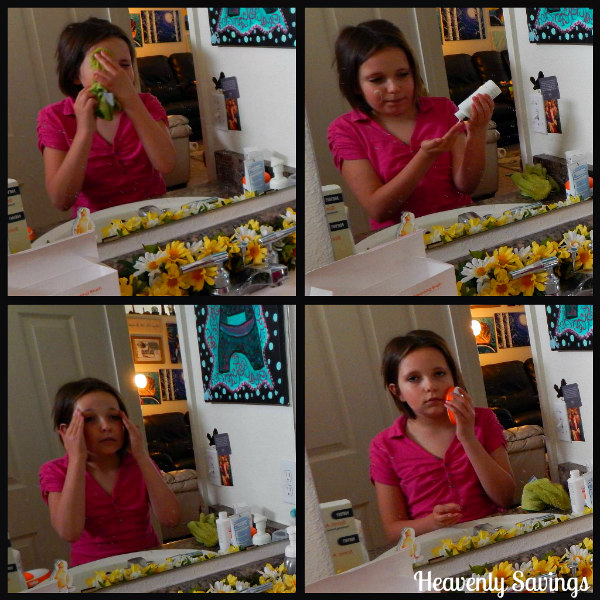 In the morning my daughter has gotten into her new routine. As soon as she wakes up she  uses her AcneFree Sonic Advanced Cleaning Duo. Just dampen face and apply the oil-free Purifying Cleanser. She wets her brush and turns on the power button. She selects her desired speed and moves the brush in circular motions. She does this for about a minute and then washes her face. Then she cleans up her brush head so it can be ready for the next morning! It is that simple!
At night before she goes to bed she uses the Daily Skin Therapy Acne Wash, Pads and Perfecting Cream!

Ashes Thoughts
I was scared when I seen my first pimple. My Mom told me that I will see it bigger then others around me but My Dad seen it right away and I freaked. I also don't know of any of my friends that had experienced it yet and I did not want to be the first one. I begged my Mom to put makeup on it but I knew that it would not handle the problem but just cover it up for a little while. Plus my Mom would not let me leave the house with as much make up as I would have needed to cover the darn thing. That is why my Mom and I went to the store to get some AcneFree stuff. I did not know what it was but I was excited to try something new to help with my now acne prone skin. So far all of the AcneFree products are easy to use. I like the way the AcneFree Sonic Advanced Cleaning Duo feels on my skin when it vibrates. I also like that I can control the speed and how easy it is for me to clean. It is really fun to use the AcneFree Sonic Advanced Cleaning Duo. I know that Acne will be a part of my life now that I am getting older but I also know that I can help my confidence level and skin by using these products.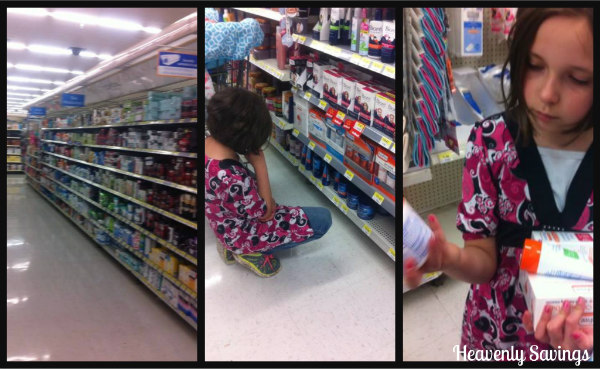 Want to be part of the AcneFree community? Join the conversation and share your skincare routine and success stories on Instagram, Facebook and Twitter. 
For product information and savings, visit acnefree.com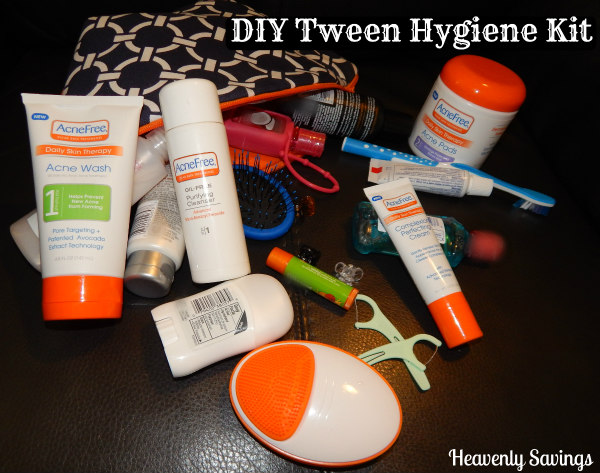 How  To Make DIY Tween Personal Hygiene Kit
While we were at Walmart I was also able to put together a nice personal hygiene kit for her. This is a bag of items that she can keep tucked away in her bathroom, backpack, locker etc… It contains everything she needs to help her look her best and feel confident in her skin. This would make a great gift for any Tween girl who wants to stay on top of her personal hygiene.
To get started on the kit I had my daughter pick out a super cute bag to hold all her items. She needed one that was just big enough to carry all her new goodies and small enough that she would be able to take with her when needed (School, trips, sleepovers etc…). We then talked about the importance of keeping ourselves clean and healthy. To get started on your own DIY Personal Hygiene Kit you can check out the items I included in mine.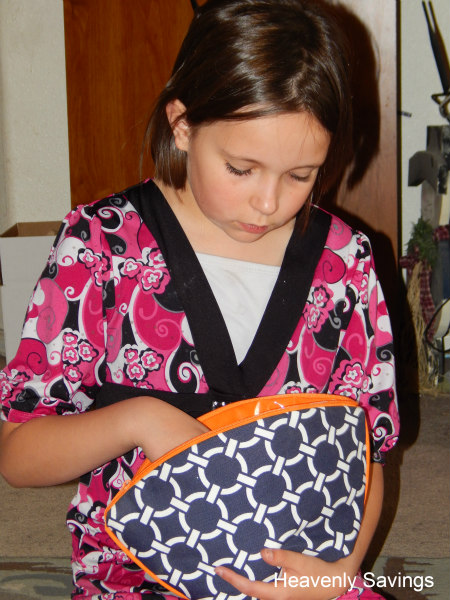 Assembly Instructions:
Step 1: Find a cute bag that your tween would be proud to carry.
Step 2: Purchase the items you feel would best benefit your tween.
Step 3: Place all her new items in her cute bag and let the Fun Begin! My daughter has really upped her hygiene since putting together this bag. It makes it fun for her to remember to wash her face, brush her teeth and do her hair!
DIY Personal Hygiene Kit items:
1. AcneFree Sonic Advanced Cleaning Duo
2. AcneFree Daily Skin Therapy Acne Wash
3. Daily Skin Therapy Pads
4. Daily Skin Therapy Complexion Perfecting Cream
5. Hair Clips to hold back her hair when applying AcneFree.
6. Toothbrush/paste
7. Lip Balm
8. Lotion to help with dry skin.
9. Body Wash
10. Shampoo/Conditioner
11. Hand Sanitizer
12. Dental Floss Picks
13. Mouth Wash
14.Small Hairbrush
**Other items we have thought of since we first purchased her kit are – nail file, clippers, breath mints/gum and/or tissues. We are planning on adding these items to her bag the next time we visit Walmart.
I purchased all of these items (except the AcneFree items) in the travel section. I felt that they were the perfect size for her travel bag. Now she can take them anywhere she pleases!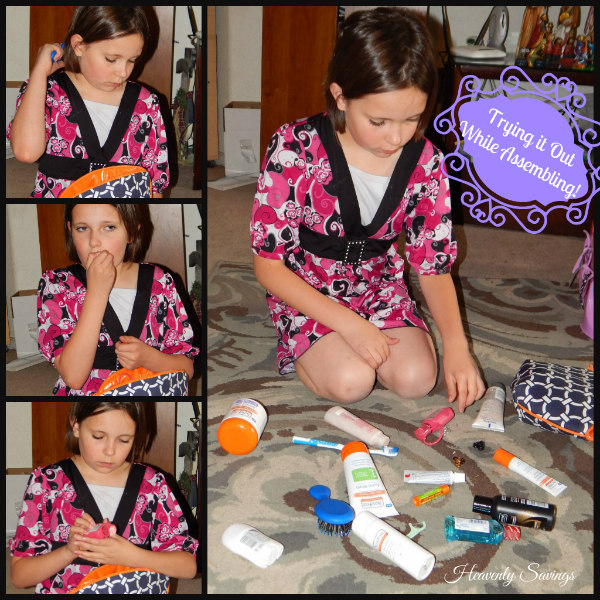 Do you remember getting your first pimple? Was it a traumatizing experience for you?