Tulip Cookie Cups
Spring is officially here! The flowers are blooming and the the garden is sprouting! I love this time of year!
This week I decided to celebrate Spring with the kids. We decided to make these edible Tulip Cookie Cups in honor of Spring time flowers!
These Tulip Cookie Cups are delicious and really easy to make. My favorite part is the hidden surprise of Caramel! Yum!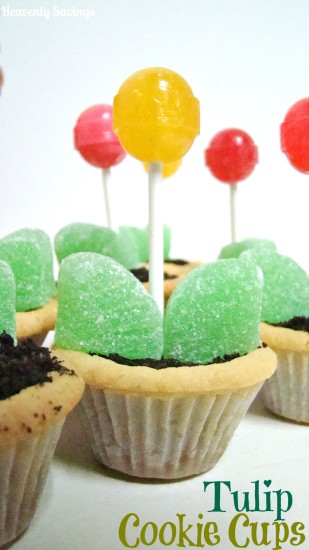 Ingredients Needed:
1 Package of 18 oz., Refrigerated Sugar Cookie Dough
36 Caramels
1 Cup Crumbled Oreo Cookies
36 Lollipops
Green Candy Fruit Slices
Green Icing
Mini Cupcake Baking Cups

Directions:
Preheat oven to 350 degrees.
Line a mini muffin pan with baking cups.
Shape Sugar Cookie Dough into about 1 inch balls. Press balls onto the bottoms and up the sides of the muffin cup forming a "Pot".
Place a caramel into the center of each cookie dough pot.
Bake cookies 10-12 minutes or until edges are lightly browned.
After cookies are removed from oven, sprinkle heaping teaspoons of crumbled Oreo's into each pot.
Carefully stick a lollipop into the center of each sugar cookie pot.
Cut Candy Fruit Slices in half to form 2 leaves.
Using icing, glue halved fruit slices in place on both sides of the lollipop to make leaves.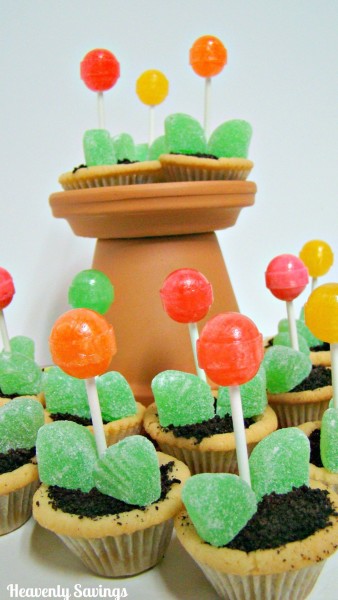 The Tulip Cookie Cups are much easier to make then you might thing. You don't have to have a green thumb to get these beauties to grow!
These treats are perfect for any occasion! Spring Fling, garden party, kids birthday….whatever you make them for I am sure they will be a huge hit with the kids (and the big kids too :)).  Enjoy!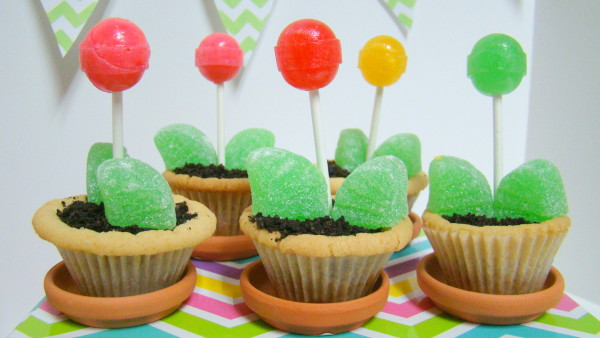 Do you have any  other ideas on what you would like to "plant" in these Cookie Cups? I would love to hear your ideas!