Pudding Planter Box Cookies – Perfect Spring Time Treat!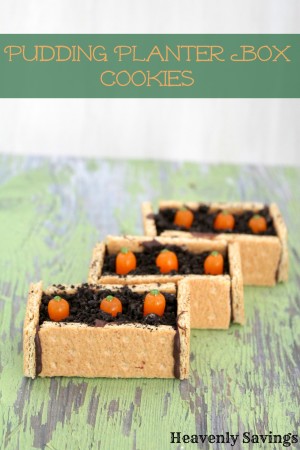 I am so excited for spring. One of the first things I do each year as the weather warms up is plant a garden. This year I will be incorporating my gardening into my daughters homeschool curriculum. But, since sprouting seeds take a few days I decided that it would be really fun to make some special treats to eat after our garden is planted.
These Pudding Planter Box Cookies are the perfect spring time treat. The possibilities of what you can plant in your Pudding Planter Box is endless! These pictures and directions will show you how to plant carrots…..but I would also love to read about your creative ideas! What will you "plant" into your pudding?
Items Needed:
Chocolate Pudding
Chocolate cookies, crushed
Graham Crackers
Green gel frosting
Orange Mike & Ike candy
Chocolate Chips, Melted
Directions:
Take one sheet of graham crackers and break into 4 pieces. Using a sharp knife, cut one of the pieces into two pieces for the end of the planter box.
Using melted chocolate in a piping bag or zip lock bag with a small corner cut off, pipe a bit of chocolate onto the seams of one cookie (this will be the bottom of the box). Press each of the side pieces to the base and hold for 5-10 seconds to allow it to set.
Repeat this process for the two end pieces of graham crackers.
Refrigerate for 10-15 minutes to allow chocolate to set completely.
Fill each "box" with chocolate pudding leaving ¼ inch gap from the top.
Cover pudding with crushed chocolate cookies. Place 3 pieces of orange Mike & Ike candies into pudding, narrow end down.
Dab the tops of orange candy with green gel icing.
Refrigerate for 10 minutes before serving.