** I was provided with a copy of this title for the purpose of this review. However, my own opinion was used and not influenced in any way.
PAN
Have you ever stopped and wondered just how Peter Pan ended up in Neverland? Where were his parents? How did the lost boys get there and how did Peter become their leader? All your questions and more will be answered in this great tale by Warner Bros. Entertainment.
I was so happy to be able to have a family movie day with my family. We were able to watch Pan together which was nice. It is not very often you can find a great movie that the whole family will love with a family friendly PG rating. Plus the movie features some of my most favorite actors including Hugh Jakcman as Blackbeard, Rooney Mara as Tiger Lily and Amanda Seyfried as Mary!
This was a great movie and defiantly something my family will enjoy watching time and time again!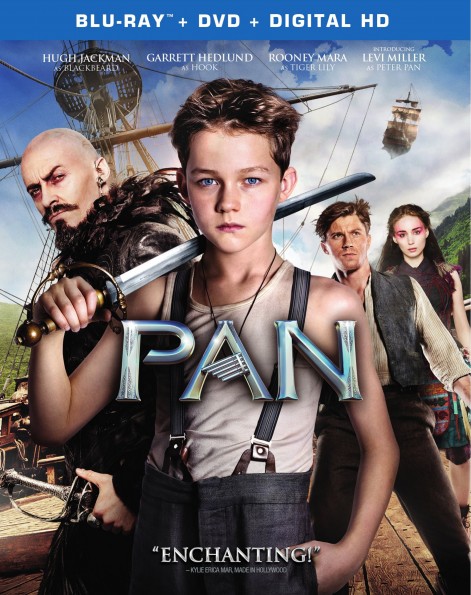 On the Back
Peter (Levi Miller) is a mischievous 12-year-old boy with an irrepressible rebellious streak, but in the bleak London orphanage where he has lived his whole life those qualities do not exactly fly. Then one incredible night, Peter is whisked away from the orphanage and spirited off to a fantastical world of pirates, warriors and fairies called Neverland. There, he finds amazing adventures and fights life-or-death battles while trying to uncover the secret of his mother, who left him at the orphanage so long ago, and his rightful place in this magical land. Teamed with the warrior Tiger Lily (Rooney Mara) and a new friend named James Hook (Garrett Hedlund), Peter must defeat the ruthless pirate Blackbeard (Hugh Jackman) to save Neverland and discover his true destiny—to become the hero who will forever be known as Peter Pan.
My Daughters Thoughts – age 10
I liked Pan. My favorite part was when they went to the fairy place. I like the look of that place and I think it would be really fun to go there. They did a great job with the filming of this movie and everything looked so real and beautiful. I also really loved Hook in this movie as well. He was not the crazy bad guy that I thought he would be. He was actually nice. I also really loved the end of the movie. Peter did something really cool but I wont ruin the movie by telling you all what it is that Peter does. It's just really cool and I loved it.