** I was provided with a copy of this title for the purpose of this review.
Disney Pixar Inside Out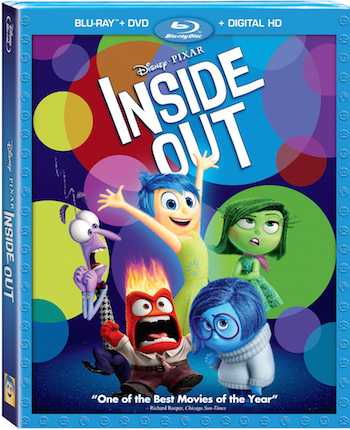 My Thoughts
I could not wait for Disney Pixar's Inside Out to be released. As soon as I seen the trailer I knew it would be a hit. In fact my family and I stood in line to see it on opening night in the theater and we loved it!
There are so many emotions that a child goes through. Many of them can be very confusing to a child and as parents it is hard to know sometimes just what our children are thinking and feeling. I was so happy to see that Disney made a movie that focuses on the emotions of children. It was not only fun to watch but it also helped to open up a conversation between my oldest daughter and I. We were able to talk about her feelings on different things and how we should react to some of the feelings we might feel. I loved getting to know my daughter better and I know that this is a conversation I would not have had with her without this movie. Plus the movie has fun catchy songs that make it even more wonderful!
Disney Pixar Inside Out is currently available for purchase and would make a great stocking stuffer for any loved one!
On the Back
From the imaginative minds of Disney Pixar comes a major "emotion" picture beyond compare. Experience the hilarious and heartwarming film Peter Travers of Rolling Stone calls "a burst of pure imagination."
Do you ever look at someone and wonder what's going on inside their head? Disney Pixar Inside Out takes a rollicking journey into the mind to find the answer. Based in Headquarters, the control center of 11-year-old Riley's ind, five emotions are hard at work, led by lighthearted optimist Joy. She strives to make sure Riley stays happy as she operates alongside fellow emotions Fear, Anger, Disgust and Sadness. It's "an instant classic," raves Richard Roeper, Chicago Sun-Times. Experience it like never before on Disney Blu-ray!