** I was provided with a copy of this title for the purpose of this review. However, my own opinion was used and not influenced in any way.
Chicken Soup for the Soul Dreams and Premonitions Review & Giveaway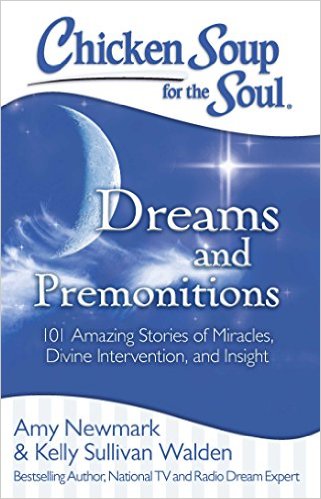 My Thoughts
Ever since I was a young child my Grandmother has told me about the importance of remembering my dreams. I remember that as soon as I was old enough to read she got me a dream book. I used to like reading about what my dreams meant in that book. It was neat. Now that I have grown I still believe that I can learn a lot about myself and my life in my dreams. It is interesting where your mind can go when you are asleep and interesting the things that I have learned about life. I loved reading these 101 inspiring stories about dreams and premonitions. Especially the ones about infertility. As most of you know I dealt with infertility for 10 years. I am finally going to have a baby and she is due in just 2 weeks!! One of the things that got me through each and every day was my dreams and premonitions. I knew that one day I would give birth to another child. It was so easy to get pregnant with my first I could not believe that it was taking so many years with my second. This book helped me to realize that I was not alone. Such a great feeling to read the words of others who have gone through what you have.
On The Back
Your dreams and premonitions can change your life. They are a window into what you subconsciously know, and they can also be a look into the unknown, delivering guidance from loved ones who have passed on and from other mysterious sources.
Listen to your dreams; learn from them. They can provide you with unconventional – yet genius – level – guidance.
You will be amazed by these 101 enlightening true stories from ordinary people who have experienced the extraordinary and tapped into life-changing wisdom. They will encourage you to listen to your dreams and your inner voice. You'll read stories about:
Navigating Life with direction from your dreams
Messages from Heaven delivering guidance, closure, and comfort
Finding Love and your soul mate by listening to your dreams
Facing Fears and overcoming them through dream experiences
Early Warnings of danger and disasters that save lives
Medical Miracles that reveal cancer or overcome infertility
Personal Transformation through the lessons in your dreams
a Rafflecopter giveaway