** I was provided product for the purpose of this review. However, my own opinion was used and not influenced in any way.
Jim Henson's 60th Anniversary!
I have loved Jim Henson since I was a little kid. I remember watching his cartoons in the mornings with my Mom and little brothers. That is a tradition that I have continued with my daughter and will continue with this baby who is set to arrive any day now.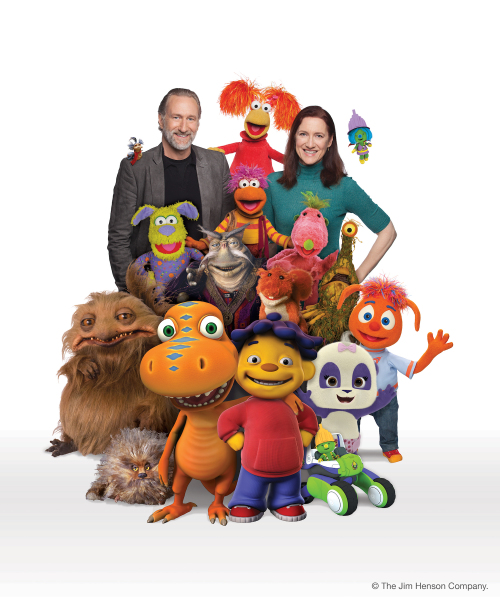 Although the cartoons are a little different today. The Jim Henson company still remains the same. After 60 years they are still making some of the best cartoons that a child can ask for. Recently I was sent an amazing package of Jim Henson products for the purpose of this review. I was able to get to know some of the Jim Henson characters all over again and I can't wait to share them with my little one. Cartoons and books like Sid the Science Kid (who was my daughters favorite when she was a toddler.), Dinosaur Train, Doozers and Pajanimals. There is even  some great Enchanted Sisters books which I had not seen before! All of which is great for kids and their parents.
 Enchanted Sisters Winter's Flurry Adventure 
The Enchanted Sisters is a new book series about the Sparkle Sisters. Each of them help to change our seasons and also have fun antics  and adventures they get into in each book. I loved being able to read Enchanted Sisters Winter's Flurry Adventure with my daughter. We were able to read about what it is like when we accidentally hurt our friends feelings and what we should do about it if that should ever happen to us. It was not only a fun tale to read but also opened the doors for lots of learning discussions with my child. I love books like that!
On The Back
Autumn – thinks deep thoughts and wears her heart on her sleeve.
Spring – gleefully chats with plants and animals in their own language.
Winter – craves adventure and the spotlight, and can never say no to a dare.
Summer – races and leaps like the fiercest jungle cat, the leader of the Sparkle pack.
 Sid the Science Kid Sid's Spooky Halloween
Sid the Science Kid was my daughters most favorite cartoon when she was younger. I loved each and every episode we were ever able to watch together. There is so many educational insights in each of these shows. I also loved how Sid's Spooky Halloween was put together. There are so many fun and interesting facts that your child will love hearing about..just in time for the spooky Halloween Holiday! Spiders, bats and more!!!
On the Back
Join Sid and his friends as they discover how bats catch mosquitoes, why spiders are expert engineer web builders and how skeletons make up the foundation of our bodies. The kids dress up to celebrate Halloween at school, and Teacher Susie leads them in a special Halloween parade song to show off their costumes!
With Sid the Science Kid, Halloween can be spooky and scientific.
Dinosaur Train Buddy's Halloween Adventure
I wish this show was on T.V. when I was a kid. It would have been one of the most watched cartoons in my home. I have a brother who was obsessed with dinosaurs just as most children are today. This is a great show that will introduce you to the dinosaurs who roamed around this earth before us and all the fun facts about them. You get to know each of them in a whole new way which is awesome.
On the Back
Buddy's Halloween Adventures
Buddy and his family take a special trip on the Night Train to learn about animals that are nocturnal. They take a fun nature walk under the full moon where they discover an entire skeleton of a Jurassic dinosaur. They visit a "haunted house" for a spooky party. Then learn all about "Gourd Day" – a Mesozoic Halloween where Larry Lambeosaurus shows the Pteranodon family how to hollow out the gourds and carve faces into them.
Pajanimals – Spooky Costumes
Pajanimals is a show that I can't wait to learn more about. It debuted after my daughter was older and I can't wait to fall in love with all these new characters as I watch them with my new baby. I love everything that happens at Storybook Land and how well these characters team up together to help each other out.
On the Back
After going to a Halloween party, Cowbella reveals that she is nervous about trick or treating tomorrow because she doesn't like all the scary vampires and zombies they saw at the party today. The Pajanimals travel to Storybook Land. where Edwin explains to Cowbella that there's nothing to be scared of. Those vampires and werewolves, etc. are just costumes that the big kids wear to have fun, just like her pretty princess costume! Enjoy four more adventures with Cowbella, Apollo, Sweet Pea Sue, and Squacky!