** I was sent a copy of this title for the purpose of this review. However, my own opinion was used and not influenced in any way.
A Reluctant Bride by Kathleen Fuller
 My Thoughts 
I can't imagine having my life turn upside down the way that Sadie Schrock's life is in this book. What a turn of events that make her face something she has been afraid to face since she was 16 years old. I am so glad that I got to review A Reluctant Bride by Kathleen Fulller. It was a book that captivated my attention from the very start and I could not put it down. I enjoyed getting to know the characters and seeing where the events in their life took them. My heart broke as Sadie's broke when she was 16. I wanted to reach out and comfort her. It broke again when she was told about her parents…and then my heart started to fall in love with Aden just as her's did. Life was not at all what Sadie thought it would be…..but could it have actually lead her where she needed to be? You will have to read and see!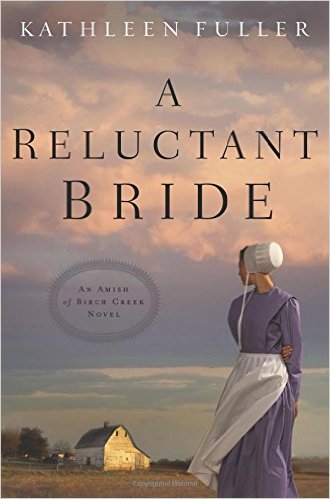 On the Back
Sadie Schrock swore she would never marry. All of her other Amish friends could court and marry – she was content to manage the family business and eventually take it over when her parents are ready to retire. But all of that changes when a reckless driver kills both her parents and seriously injures her younger sister. With mounting hospital bills adding to the pile of debt her parents left behind, Sadie is left with no choice: she must marry. And not just any man – the man who saw her at her weakest and walked away.
Aden knows what his brother did to Sadie years ago was inexcusable. And every day since that incident, Aden has lived with the guilt for not intervening sooner. When he is faced with the chance to protect Sadie once again, he can't let her down – even if it means living with the scorn of a woman he loves for the rest of his life.
Working alongside Aden at the store, Sadie realizes he isn't the same boy who once betrayed her. Just when Sadie starts to let her guard down and perhaps develop feelings for her new husband, dangerous secrets are revealed. Now everything Sadie has worked so hard to protect is threatened, and she must find a way to save her family – and herself.
Where To Buy
You may visit Family Christian Stores to purchase this title!