** I was provided with product for the purpose of this review. However, my own opinion was used and not influenced in any way.
 World Vision Makes Great Gifts + $85 Value Balinese Multi-strand Necklace Giveaway!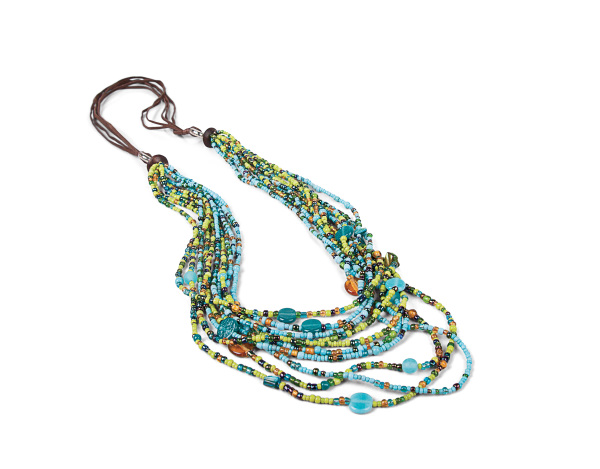 Are you looking for a gift idea this year that will not only make a great gift but will also help others in the world around you? If so then you will want to check out this years World Vision Gift Catalog! Not sure what World Vision is? Well I would be happy to tell you a little more about this amazing catalog that is helping others every day.
This years World Vision Gift Catalog is packed full of poverty-fighting gifts that range in price from $16-$39,000. Each gift will not only be a stunning gift idea for loved ones but will also help improve the quality of life for families and children who are struggling in the U.S. and around the world. With other 250 gift ideas to choose from you are sure to find the perfect gift for each of your loved ones and I am sure they will also love knowing that their gift is also helping others. Plus to make the gifts even better they are each handcrafted!
Some of the items include a Royal Silk Scarf that is woven by Vietnam's Ma Chau villagers, a Mango Wood Beaded Bracelet made on the island of Java that will help to feed and care for children, there is also an African Soapstone Box that is simply stunning and is made by artisans in Kenya.
These items are only a handful of the amazing gifts that you can purchase for your loved ones. There are so many great ideas to choose from! One of my favorite items and one that I was fortunate enough to receive is the Balinese Multi-Strand Necklace. This necklace has beautiful craftsmanship and the bead color choices is stunning. I love these shades of blues and greens together. This is a gift that I know anyone would be proud to receive! I also love knowing that it was made with love from someone in Indonesia. So neat to know where it came from and that it will be helping those in that village as well as others who are in need.
The money that is raised from each of your purchases will go to where the funds are needed most. Each item will support a variety of World Vision programs that are all around the world. This is an amazing company and Gift Catalog that was started in 1996 and has been growing in popularity ever since. Just last year more then 822,000 people were helped thanks to purchases in the World Vision Gift Catalog. That is amazing! Lets all pitch in together and make this years catalog sales even better!
How would you like to win a Balinese Multi-Strand Necklace of your own? I am so happy to say that one luck U.S. Reader will be able to do just that! Good Luck to all!
a Rafflecopter giveaway