How to Cook the Perfect Chip
Do you remember the days when you were just a wee nipper and used to dream of indulging in sizzling hot chips after school on a cold winters evening? Hot potato chunks straight out of the fryer, tossed in salt, sprinkled with vinegar and served on a plate?
Well, we're going to tell you how to get that nostalgia back. There are many ways that you can cook your chips and a variety of different potatoes you can use to start off with. Our favourite is the Charlotte potato, producing chunky fluffy chips, just like those you loved as a child.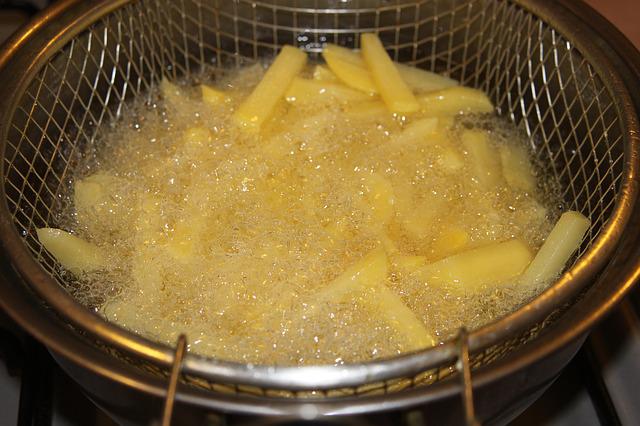 In our opinion, the best way to cook is to do it twice! Also known as blanching.
Blanching
Wash and peel the potatoes, then cut them into thick chunks of approximately an inch wide; the thicker the chip, the longer it will take to cook.
To blanch, simply fry the chips at around 145 degrees C for 4.5 minutes.
The chips can then be stored in baskets at ambient temperatures for up to an hour. Don't forget to cover them while they set though!
Frying off should be done at around 180 degrees C for 1.5 minutes. This will result in a nice, golden chip which is slightly crispy on the outside with a scrumptious fluffy centre.
It's an ideal solution for shops or restaurants with a small frying range, and which cannot cope with surges in demand over a lunch or dinner period. Blanching therefore allows the shop to serve customers quickly and produce a great chip. It is also a great option for home cooking as all this can be done in less than 20 minutes. You'll never want to cook oven chips again!
This is just one of the many ways that Fylde Fresh and Fabulous recommend cooking potatoes, especially if you want to recapture that feeling of nostalgia.
We are a potato company based on the Fylde Coast in North West England, and our sister company Triple F Chips have been supplying freshly prepared chips to restaurants and fish and chip shops for now over 10 years.
 N.B. Frying times are estimates based on average varieties of potato and differences in individuals cooking equipment.
– Guest Post