** I was provided with a copy of this title for the purpose of this review. However, my own opinion was used and not influenced in any way.
Diary Of A Jackwagon by Tim Hawkins
Ok so this is probably sad to admit…but I had never heard of Tim Hawkins before. When I first got this book I did not know he was a stand up comedian and that I was about to read some of the funniest stuff I had ever read. After reading his book I am not sure how it was possible that I had never heard of Tim Hawkins before! This man is hilarious! I could not stop laughing all the way through the book Diary Of A Jackwagon! The thing that is so funny about Diary Of A Jackwagon is how well I can relate to everything he had to say. From going down a hot metal slide to blinker fluid..yes I said blinker fluid. After reading just the first page I yelled for my husband to join me so that we could read it together. I knew that this was a book I had to share because it was so laugh out loud funny.
Tim Hawkins has a lot to say about life. He says things in such a funny and captivating way that you will not want to put the book down. I was enlightened on things from marriage and kids to Crazy Relatives. Aside from the funny family aspects I also love the outlook on being Christian. It is ok for each of us to be different and a little out of the box. The Lord is ok with that. As Christians we are not all duds as some might think…and as Tim Hawkins stats the Bible is not boring.
If you are looking for a book that will make you laugh, make you think, and inspire you then I recommend Diary Of A Jackwagon by Tim Hawkins. This is truly a must read and I know that I will be reading it again and again.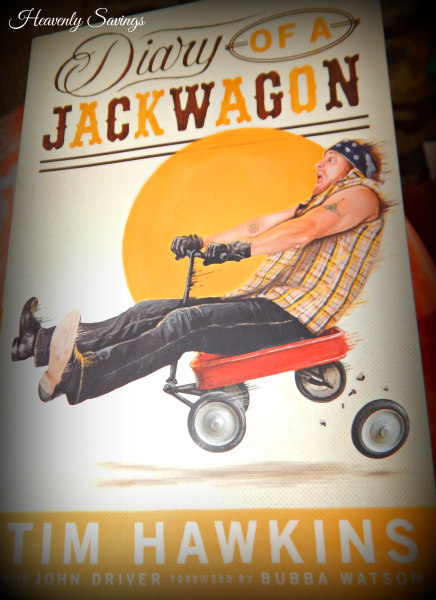 On The Back
Comedian Tim Hawkins Shares His Perspective On Life In The Twenty-First Century
Best known for his song parodies and riffs on yoga pants and homeschooling, Tim now reveals his secret thoughts about everything from martial communication to church music to fatherhood. Diary of a Jackwagon affirms that for life's messiness, laughter is the best medicine – when there aren't any pills left.
 Where to Buy
Click HERE to purchase Diary Of A Jackwagon by Tim Hawkins!
How would you like to win a copy of Diary of a Jackwagon by Tim Hawkins? I am excited to say that one lucky US reader will be able to do just that! Good Luck to all!