** I was provided with a copy of this title for the purpose of this review. However, my own opinion was used and not influenced in any way.
Disney's Miles From Tomorrowland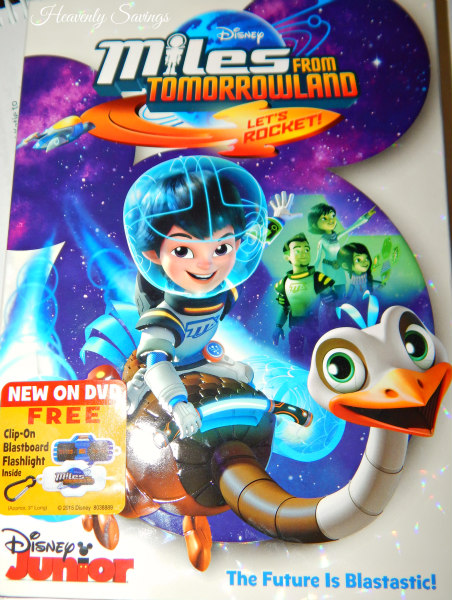 I am so excited for the new baby. It has been awhile since I was able to watch Disney Junior and I have felt out of the loop. Now I can get back in on the fun with great cartoons like Miles From Tomorrowland.
I had never heard of Miles Callisto from Tomorrowland but now that I have I can say we will be watching it a lot. I love the futuristic plots and the fun that Miles has in space. It would be awesome to zoom around on a rocket and take the adventures that Miles takes. You will fall in love with Miles and his family…oh and don't forget his best friend Merc the robo-ostrich. Miles's family includes his Mom Phoebe, Dad Leo and Sister Loretta! Ok now for my favorite part…not only will your child learn problem solving skills and team work. BUT each episode is based off of some type of fact. Which is a great opener for my homeschool kids!  In this great DVD you will get 10 fun-loving episodes about Miles and his family. The DVD also comes with a Clip-On Blastboard Flashlight…my daughter was thrilled about that!
On the Back
Race into space to the final frontier!
Hitch a ride with Miles From Tomorrowland and…. Let's Rocket!
Climb aboard the starship "Stellosphere" and meet Miles Callisto, his loving family and his best buddy Merc, a robo-ostrich built for speed, friendship and fun! Tasked by the Tomorrowland Transit Authority with connecting the Interstellar Super Highway. Miles and his tech-savvy sister Loretta are ready for anything – including awesome alien encounters and earthshaking discoveries that celebrate the wonders of outer space. Filled with cosmic surprises, super-cool gadgets and amazing facts verified by science experts, this out-of-this-world adventure is a total blast!
Episodes
Runaway Shuttle
Surfin' The Wirlpool
Ocean In Motion
Explorer Exchange
Game On
How I Saved My Summer Vacation
Who Stole The Stellosphere?
Rock N' Roll
To The Goldilocks Zone
Hiccup In The Plan