** I was sent a copy of this title for the purpose of this review. However, my own thoughts were used and not influenced in any way.
10 Things for Teen Girls by Kate Conner
Being a woman is hard. Especially during your teenage years. Life is confusing, you don't know who you really are, and the expectations are endless. I am so happy that Kate Conner wrote a book to inspire teen girls. She lets them know that they are not alone. The feelings they are feeling are the same ones that all girls their age are feeling. And most important of all…they are good enough! Kate Conner has a style of writing that is humorous and captivates the attention of the reader. She makes teen girls want to read and listen to her advice. Unlike when their parents say it and it goes in one ear and out the other. I am so glad that I am able to give this to my daughter who is just starting into the teen years. She is starting to notice things about her body, personality and brain that she does not like….but she should. All girls are beautiful in their own unique way. It does not matter your size our shape…you are beautiful!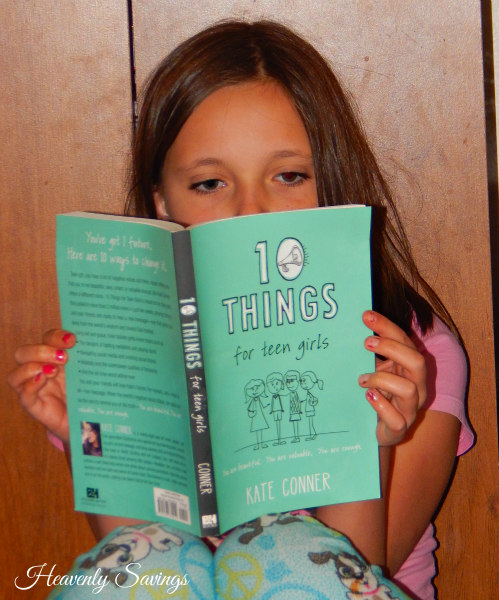 On the Back
You'e got 1 future.
Here are 10 ways to change it!
Teen girl, you hear a lot of negative voices out there, voices telling you that you're not beautiful, sexy, smart, or valuable enough. But Kate Conner offers a different voice. 10 Things for Teen Girls is based on her blog post that pulled in more than 2 million views in just two weeks, proving that you and your friends are ready to hear a new message – one that points you away from the world's wisdom and toward God instead.
Using wit and grace, Kate tackles gotta-know topics such as
– The dangers of batting eyelashes and playing dumb
– Navigating social media and avoiding social drama
– Modesty and the superpower qualities of femininity
– And the all-time worst advice ever
You and your friends will love Kate's humor, her honesty, and – most of all – her message. When the world's negative voices attack, her voice can be the one to remind you of the truth – You are beautiful. You are valuable. You are enough.