** I was sent a copy of this title for the purpose of this review. However, my own opinion was used and not influenced in anyway.
Disney Descendants Review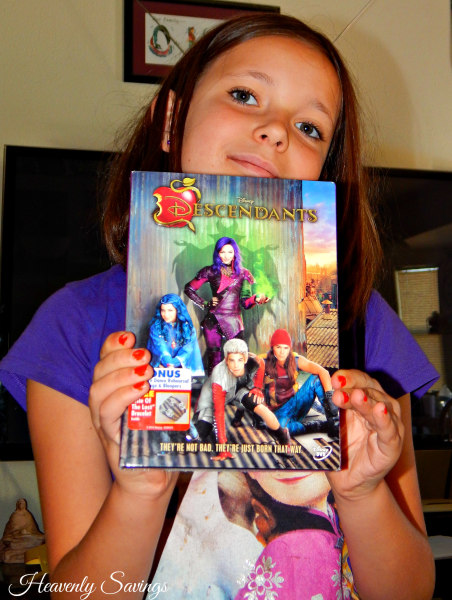 Can you imagine our most favorite villains having children? Well they do in Disney's Descendants….and the evil children have been invited to go to school with the children of the good guys. Think they will all get along? Can they become dare we say…friends?
Disney's Descendants is a very creative movie about the mixing of good vs. evil. But this time with the teens of our favorite characters. It is so much fun to see how these kids mix together and influence each other. The "evil" children are only there to help their parents achieve world domination. But once they get there they might have a change of heart. All while influencing the do gooders to be a little more bad! How do you think their parents will react to their influence on each other? You will have to watch and see!
I had a blast watching it with my daughter and I know this is a movie we will be watching time and time again! It was great! Thanks Disney for another great film!
On the Back
Meet the next generation of villains in Disney's Descendants!
Imprisoned on the Isle of the Lost, home of the most infamous villains who ever lived, the kids of Maleficent (Kristin Chenoweth), the Evil Queen, Jafar, and Cruella De Vil have never ventured off the island…until now. Sent to idyllic Auradon, to attend prep school alongside the children of beloved Disney heroes, these villainous kids must execute a plan that helps their evil parents achieve "world domination" once again! Will Maleficent's daughter (Dove Cameron) and the other rebel teens follow in their rotten parents' footsteps or will they choose to embrace their innate goodness and save the kingdom? Co-starring Booboo Stewart, Cameron Boyce, and introducing newcomer Sofia Carson, this wickedly cool comedy adventure is awesome to the core!
Bonus Features
– Backstage Dance Rehearsals – Dance till you drop! Exclusive cast rehearsals with Director Kenny Ortega.
– Bloopers – Kristin Chenoweth and the cast goof up and crack up on set!
– Mal – Sneak peek at Mal's story as seen through social media.
– Plus more!
Interested in throwing a Disney's Descendants Party? Check out some of these amazing ideas!
Who is your favorite Disney Villain?