** I was provided with a copy of this title for the purpose of this review. However, my own opinion was used and not influenced in any way.
Chicken Soup for the Soul: Inspiration for Nurses
101 Stories of Appreciation & Wisdom
by Amy Newmark and LeAnn Thieman
After a few short stints in the hospital my Aunt passed away two weeks ago. As I sat and watched the Cancer take so much away from her I also was able to see the love, kindness and compassion of her nurses. I was so grateful to them for being there for her…for us. So grateful for people who do the hard to do things that they are asked to do every single day. It truly takes a special person to become a nurse. I am also fortunate to have many nurse friends. I am blown away by the hours they work, the things they see and how well they deal with situations. I know that along with their hard work and dedication there is also a lot of joy. I loved reading Chicken Soup for the Soul: Inspiration for Nurses because it allowed me to see the good with the bad. This is a great book that I know I can gift to any of my nurse friends and it will help put a smile on their faces. Thanks Chicken Soup for the Soul for yet another great read! All nurses deserve to be recognized and rewarded! They are amazing!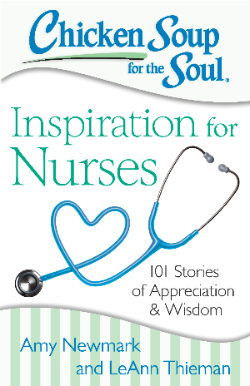 On the Back
Most nurses didn't choose their careers because of  great hours, pay and working conditions! Chicken Soup for the Soul: Inspiration for Nurses reminds them why they entered the profession…and why they stay.
Working in health care never gets easier; staying positive and engaged can be difficult. And yet nurses show up… over and over again… day after day, selflessly nurturing others with their hands and their hearts.
This collection of true stories champions nurses' daily contributions, commitments and sacrifices, and depicts the compassion, intelligence and humor needed to meet today's demands. Through laughter and tears, nurses share their stories to inspire and fortify one another, so together they can continue their competent, compassionate service.
Regardless of age or area of practice, nurses will discover the universality of caring, the power of their skillful hands, bright minds and devoted hearts. These stories will bless them with the hope, health and healing they bring to all those they touch.
Because they deserve it.
Do you have any Nurses in your life that would love this book?