** I was sent this title for the purpose of this review. However my own opinion was used and not influenced in any way.
Branching Out – How Trees are part of Our World
by Joan Marie Galat
My daughter has been learning a lot about plant and animals during her home school lessons. I was thrilled to be able to find this book and add it into our curriculum. There is so many useful facts about all different kinds of trees. There are over 60 pages in this book that lists different kinds of trees and exactly why we need them. What we do with them and what they do for us. It is so fun to learn more about some of the trees we see every single day….and some of them we had never heard of before! Thanks Joan Marie Galat for writing such a great book that will help children expand their knowledge!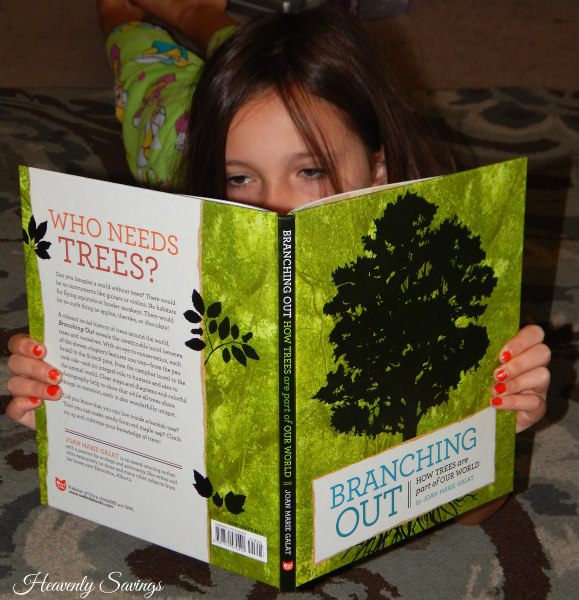 On the Back
Can you imagine a world without trees? There would be no instruments like guitars or violins. No habitats for flying squirrels or howler monkeys. There would be no such thing as apples, cherries, or chocolate!
A vibrant social history of trees around the world, Branching Out reveals the inextricable bond between trees and ourselves. With an eye to conservation, each of the eleven chapters features one tree – from the pau brasil to Scotch pine, from the camphor laurel to the cork oak – and its integral role to humans and also to the animal world. Clear maps and diagrams and colorful photography help to show that while all trees share things in common, each is also wonderfully unique.
Did you know that  you can live inside a baobaba tree? That you can make candy from red maple sap? Climb on up and cultivate your knowledge of trees!
Where to Buy!
You can visit Owl Kids to purchase this title!