This shop has been compensated by Collective Bias, Inc. and its advertiser. All opinions are mine alone. #OutshineSnacks #CollectiveBias
Fun and Easy Back To School Pencil Holder and Outshine Simply Yogurt Bars!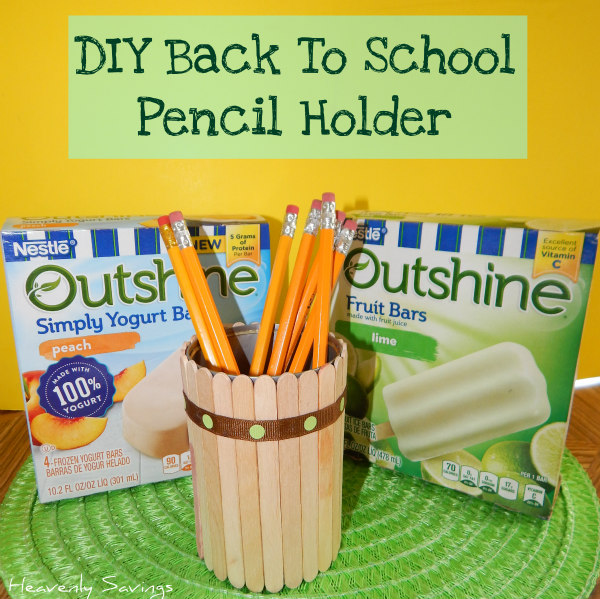 I am currently 6 months pregnant and I must say it is HOT outside. ALL I have been wanting to eat is items from the Walmart freezer section. Especially the Outshine Simply Yogurt Bars, Outshine Coconut Water Bars, Outshine Fruit Bars & Outshine Fruit and Veggie Bars. They are all taste great, they are better for me and they help to keep my cool this summer. Ok…so the kids love them too which is an even bigger bonus!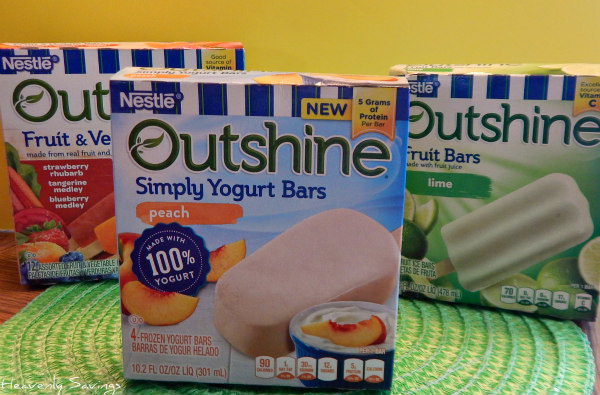 Walmart has a large variety of Outshine Yogurt Bar and Fruit Bar flavors. For over 18 years Outshine has made frozen fruit bars out of things like strawberries, peaches and coconuts. It is so nice to know that I have options to choose from and a snack that satisfies without the guilt. I know I am making a better food choice for me, the baby, and my kids. As the brand would say they are just  "A refreshing way to shine brighter"!
With all these Outshine Bars being eaten around my house I have had an over abundance of Outshine Bar sticks. I was trying to come up with something creative the kids could make out of the left over sticks and we decided upon a Pencil Holder. Both of my daughters Grandma's are teachers and I know that they will both love to display this on their desks!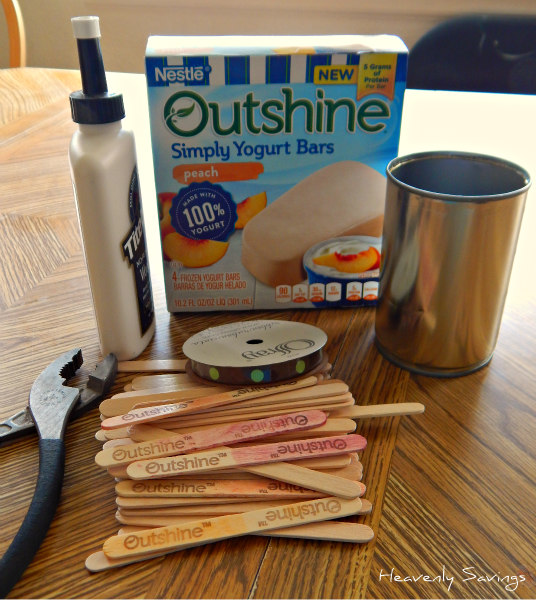 Items Needed:
About 25 Outshine Bar Sticks – washed off so they are not sticky.
Tin Can Emptied and Washed
Pliers
Wood Glue
10″ ribbon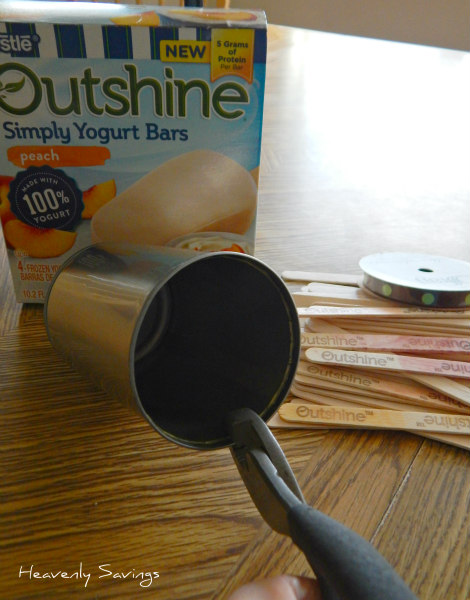 Directions:
1. Take Label off of can and wash it.
2. Take pliers and squeeze around inside edge of can. Making sure that the sharp parts are pressed down so that no one cuts a finger when getting a pencil.
3. Start by putting a line of wood glue down a stick and pressing the stick onto the side of the tin can. Repeat until can is surrounded by sticks.
4. Cut a piece of ribbon to fit your can (about 10″) depending on can you use.
5. Place a line of wood glue on the inside of your ribbon and place ribbon around the can. You can put your ribbon anywhere 🙂 Have fun with it!
6. Fill with Pens and Pencils! Enjoy!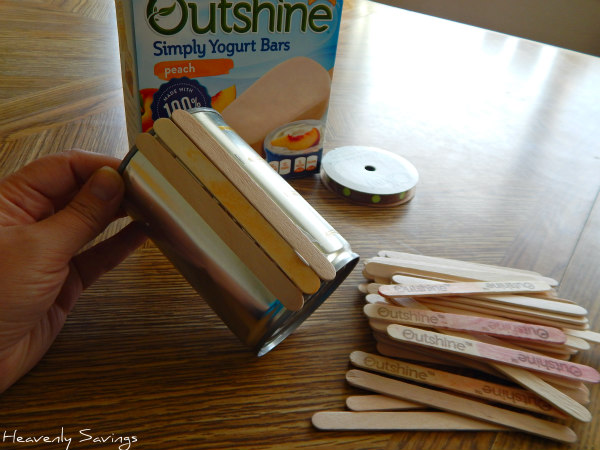 School starts this week and we will be giving these to the Grandma's! I can't wait for them to see what we were able to create! I also can't wait to make more….since Summer is still here and I can't stop eating these Outshine Bars!
Don't forget to also stop by and enter the Outsmart your Snack Quiz and Sweepstakes. The Sweepstakes run from 7/1/2015 – 7/31/2015. Details: Outshine is all about feel-good snacking.  That's why they are helping provide 1 pound of produce to local food banks and sharing cool savings when you take our snacking quiz. To help contribute and get you your $1 savings, take our snacking quiz at Outshine your Snack Quiz.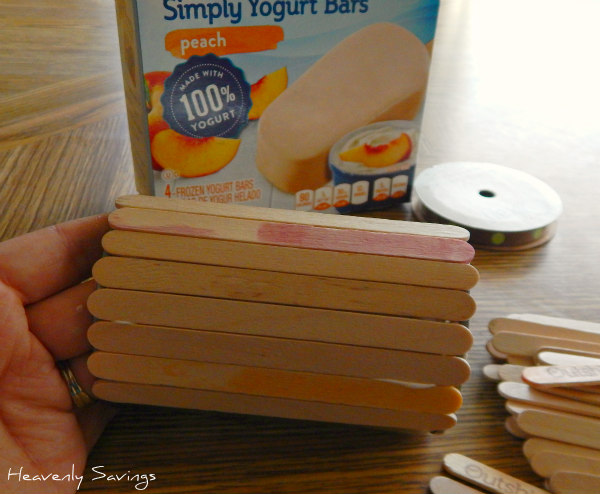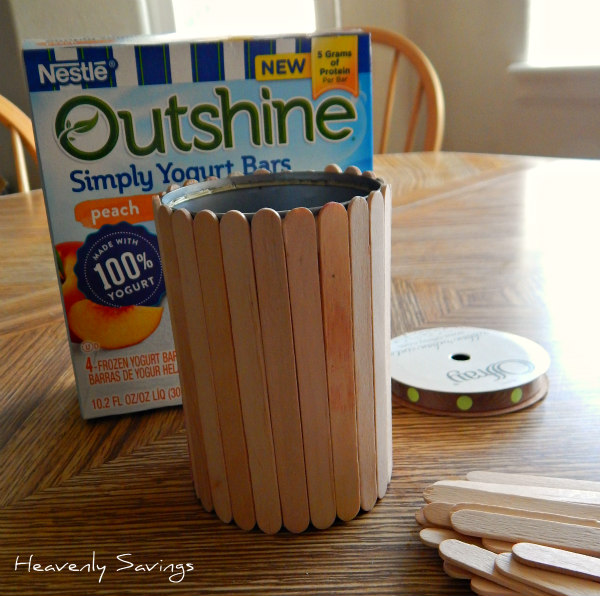 For more Outshine fun don't forget to follow them on social  media!
Also when you purchase Outshine Bars between June 1 and July 31, every specially marked box will hep get 1lb of fresh fruits and veggies donated to a local food bank! Thanks Outshine for being committed to Feeding America!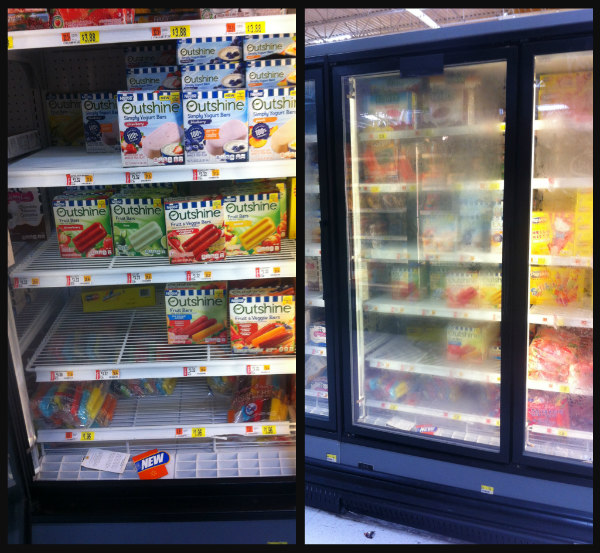 What would you make with your leftover Outshine Bars Sticks?