** I was provided a copy of this title for the purpose of this review. However, my own opinion was used and not influenced in any way.
Chicken Soup for the Soul Be the Best You Can Be
I adore this Chicken Soup for the Soul book. It is a book that my daughter can relate to. I was so happy to hand her this book to read. These stories are able to uplift and inspire her. I love that she will learn more about making her best effort, having confidence and being grateful. Everything in this book is traits that I can only hope and prey to install in my daughter. I want her to always be the best she can be and it is books like this that will help me get her there. She is a remarkable young woman. I am very proud of her and I am grateful for Chicken Soup for the Soul for writing such a great book for kids & preteens!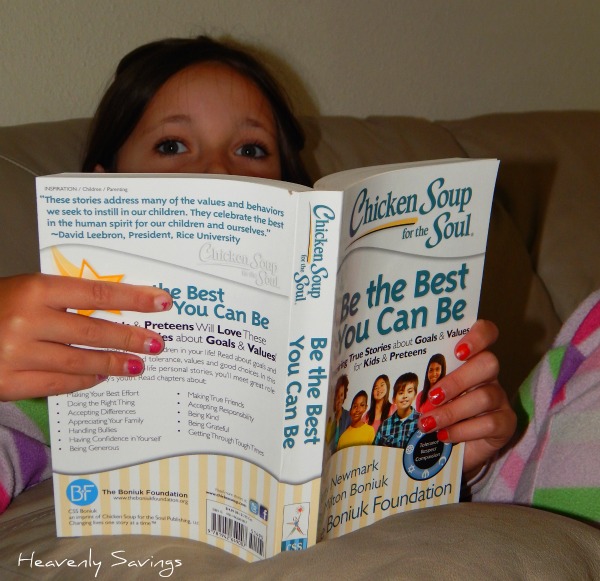 Chicken Soup for the Soul Be the Best You Can Be is filled with over 100 stories that will teach your kids & preteens about Tolerance, Respect and Compassion. With 12 different categories your child will be able to pick and choose stories to read and be able to find those that fit with them just right.
On the Back
Kids & Preteens Will Love These Inspiring True Stories about Goals & Values!
Start a conversation with the children in your life! Read about goals and hard work, compassion and tolerance, values and good choices. In this collection of relevant, true-life personal stories, you'll meet great role models for today's youth. Read chapters about:
– Making Your Best Effort
– Doing the Right Thing
– Accepting Differences
– Appreciating Your Family
– Handling Bullies
– Having Confidence in Yourself
– Being Generous
– Making True Friends
– Accepting Responsibility
-Being Kind
– Being Grateful
– Getting Through Tough Times
Win It!
How would you like to win your very own copy of this Chicken Soup for the Soul book? I am happy to say that one lucky US or Canadian reader will be able to do just that! Good Luck!